Hello everyone!
This is a small (long?) post mortem for my jam entry Botanic Balcony! This was my first game jam, first time making a 3D game and my first VR game \o/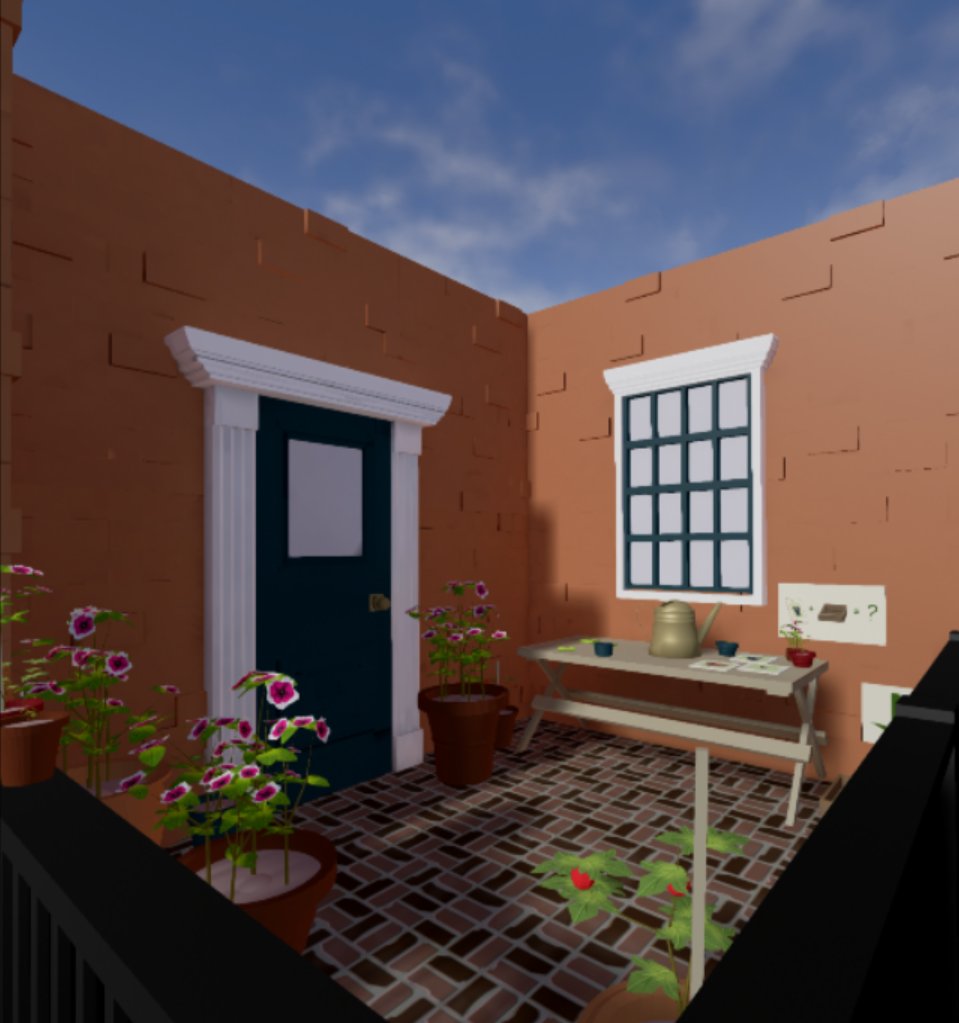 One Room
To be honest, I wasn't intending to enter the jam because I'm busy with other things, but when I saw what the theme was Saturday afternoon I knew I had to go for it. The theme, One Room, fit well with a VR idea I had sitting around in my drafts and I figured it was a good chance to get it started.
The VR idea was simple: growing plants on your own private balcony. However, I wanted to make use of room scale VR, and have the game take up the minimum amount of space required. I wanted to make a game where everything was practically in reach and you didn't really need to teleport around.
Thus, Botanic Balcony was born!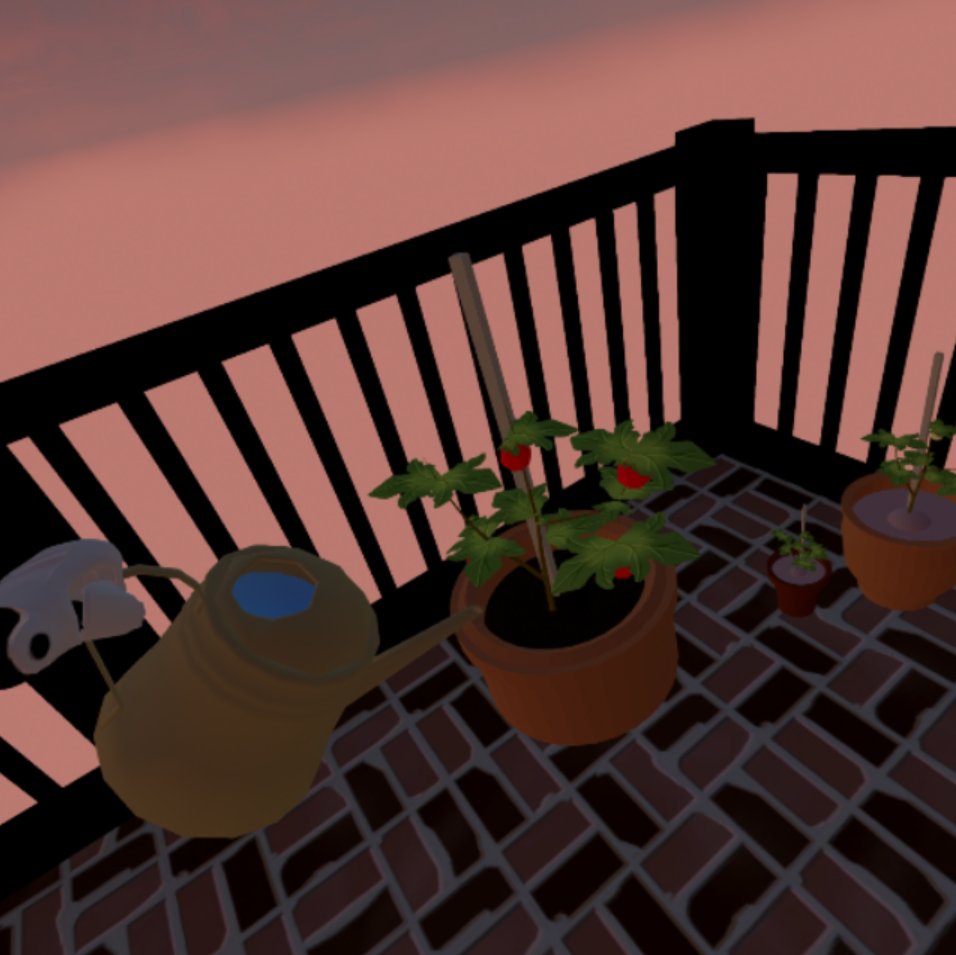 First Game Jam
I was lucky enough to have already drafted out ideas for this type of game months ago, so it was rather easy for me to strip everything down to the bare minimum: growing and watering plants. In that way, even though this was my first game jam, and I was working alone, and I had less than 72 hours, I didn't really feel lost with what I needed to do. Plus, I started out with grey boxing everything 😉
First VR Game
I am so thankful that UE4 comes with a default VR setup. My biggest issue with getting the game running in VR was simply based around getting UE4's default VR setup to run, which honestly came down to one thing: packing for distribution properly. Once that was out of the way, it was easy for me to run the default, throw some stuff around and get cracking.
At this point, I should mention that I was borrowing my father's VR system for all of this. My development machine is nowhere near good enough to run VR, so the entire jam I was packing up and transferring the game between computers to test. Which lead to a lot of running back and forth. Which also led to my father not being very happy when I kept kicking him off from playing Battlefield to test. >w>;;;
In any case, getting the VR part of the game to function was easy-peasy.
First 3D Game
The real difficulties came in the form of this being my first 3D game. I've been messing with UE4 for the past few months from time to time, but mainly I was messing with shaders, learning about blueprints and so on. I've also never properly 3D modelled before. (I made a cup once in Bryce 4 or 5 when I was 10.)
It was… an experience…. I feel like I wasted so much time modelling things out, and I wish I could've included more plants. I thank youtube videos and those people who helped me out during my short twitch stream where I tried to model a pot. Otherwise I would've been 100% lost.
Because of these restrictions though, I aimed for a more low-poly type of thing, and kept most materials to be plain colors. I think it came out pretty well from a design perspective. Definitely the most complicated thing to model was the watering can.
Developing in VR Tips
There were a few things that came up during my development which might come in handy to keep in mind in the future if you ever try out VR development.
Make sure you've hit 90fps
The Vive headset is normally rather blurry for me because the distance between my eyes is less than 60cm, which is the lowest the headset supports. Because I normally feel some sort of nauseous when I play, I didn't notice that the frame rate was running at 60fps when I first submitted the game. I had tested the game out on my brother, who happens to just not notice the frame rate drop, so I had no idea until my father tried it out. (My family is my guinea pigs.) My father noticed right away and let me know, and it took a while to figure out what was causing the cap.
In the end there were two things:
Steam will automatically cap the game at 60fps if you run it through that instead of opening it on your desktop (probably because it's missing the VR support flag because it's an exe and not a game on Steam)
UE4 automatically sets a cap of 62fps, and needs to be changed
It's best to check these things first before trying out the wide variety of suggestions online. I tried changing it through command line arguments, turning off lots of settings in the post process volume and so on. In the end, it was rather simple.
I'm a fairly average-sized person (5'6"), so when I was developing the game, everything felt about right for me. However my father and brother are taller (about 5'10") so things like the fences and walls and so on originally felt rather short.
I was lucky enough that most of the models I made I guesstimated the size correctly, but for things like the door I had to look up measurements to make sure it was about right.
It was rather interesting though how you could easily go from being about average height to being a mouse, to being a giant just by changing the scale of your items.
Make sure you have some willing to suffer laggy frame rate or other such technical issues lying around. 😉
Do as much as you can without VR running
This may be specific to my setup, but the first 12 hours of the jam I was constantly testing things out and having VR running. The VR machine doesn't really seem to be able to handle that type of workload. At one point while testing the computer started to overheat a bit and the VR headset lagged considerably. So bad that it felt like I was having the symptoms of fainting.
I ended up doing a lot of tests with dragging blocks around in UE4's editor and flying around, using the VR machine only when absolutely necessary.
And that's the gist of it! \o/
There's tons of things I would like to add to the game, so I hope to continue it in the future. Maybe in 2017 😉
For now though, give it a look and maybe a play! There's a youtube playthrough for those without the Vive.
Thanks for reading!