I'm ecstatic to find out that today, The Sentient Cube reached 100 ratings! I'm so happy, I even put my formerly useless Wacom tablet to good use! Observe, my programmer's art: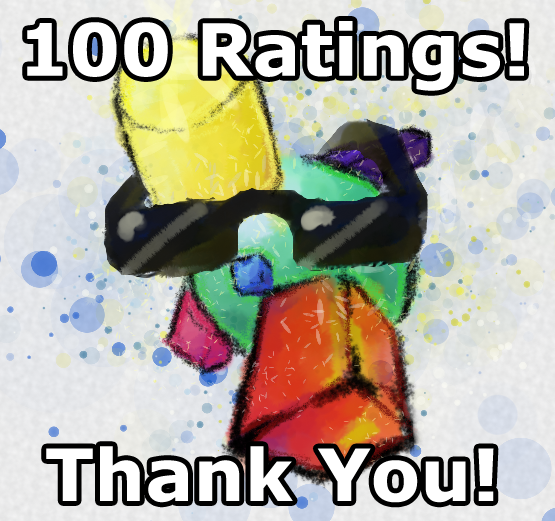 On top of that, I have this ridiculous spike on my site's visit: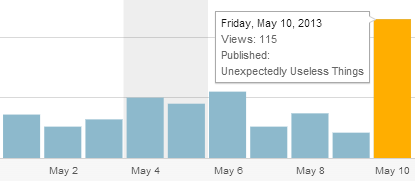 I just figured out why this happened, but I'll get around that later. I've got more pressing things to talk about.
---
First, I've rated up to 55 games. I really need to bump this up big time, so I've decided to do a live streaming on Twitch.tv on Sunday, 8:00 pm EST. Profile name is japtar10101. I'll be taking requests, so feel free to post your game's URL into the comment section.
---
Second, as per tradition, I talk about 5 more awesome games I recommend you play. Which, albeit, puts a total of 10 games recommended…or about 20% of all the games I've rated. Well, without further ado, here's my list:


Square Quest
A wonderfully compact Legend of Zelda quest where you just fight, explore, and solve puzzles in it's blocky glory!
A genuinely innovative and smart puzzle game where you have to selectively remove colors to reveal a number combination. An excellent twist on the ye old I Spy game.
Ludum Dare's answer to Mirror's Edge. Absolutely gorgeous graphics and tough-as-nails platforming.
Incredibly bleak (to a point of parody) story helps sets the tone to this mind-screwing minigame series. Seriously, you expect me to play 2 games at once!?
I know this is a really old puzzle game, but I can't get enough of it! It's puzzles has more than one solution, and all are very creative.
---
I've mentioned earlier that there was a weird spike on my site. In fact, it turns out Rock, Paper, Shotgun has mentioned my game (among many others) via a Haiku:
The Sentient Cube
Hey, cubes do not roll!
Unless they're katamaris
Who turned off physics?
Considering most of my visitors are English-speaking countries, this explains the spike well enough. However, a little more Googling reveals far more wide-spread references.
For one, IGN Italia mentions the game:
Restando in tema di blocchi colorati voglio poi citarvi il bel The Sentient Cube, di Omiya Games, praticamente una versione ridotta di Katamari Damacy che con un un po' di sviluppo extra (e controlli meno "svolazzanti") potrebbe evolversi in un gioco davvero interessante. Lo scopo di ogni livello è semplicissimo: nei panni di un cubo rotolante (e senziente, almeno stando al titolo del gioco) dovremo toccare gli oggetti colorati per attaccarceli addosso, tramutandoci via via in un'ammasso di forme geometriche colorate che rotola. Mano a mano che le dimensioni di tale matassa di oggetti aumentano gli elementi del fondale che possiamo "inglobare" diventano colorati e le nostre abilità di movimento aumenteranno. Rotolando e assimilando bisognerà raggiungere l'uscita di ciascun livello entro il tempo limite. Facile, colorato e abbastanza efficace, senza contare che in ciascun livello c'è nascosta una patata da trovare e raccogliere. Così, come extra…
Yeah…I can't read that, so here's Google Translate's translation of the webpage.
Another international location I'm apparently having a boom at is Russia. There's Tiny Games, Small Games, Игры YuWik, and this strange Youtube video.
Lastly, there's a NSFW Let's Play video of someone…enjoying the game? I'll stick with the positive assessment on this one.
Anyways, thanks a lot for all the support!