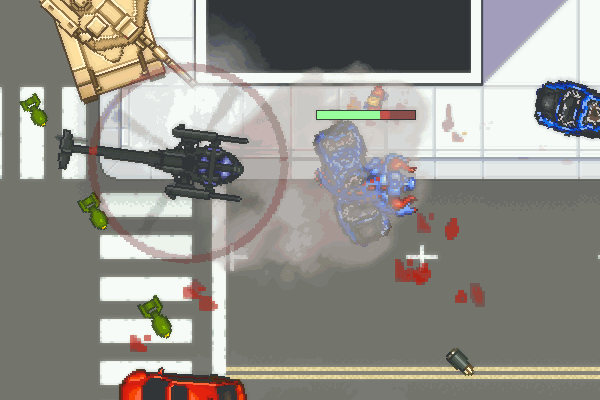 We've gotten a ton of great feedback from our fellow participants (thanks for that!), and I decided it was finally time to write a little post mortem of our entry Massacre Monday.
The goal for our two man team during this LD was to create an action game with a visceral feel — lots of visual and audio feedback, a feeling of general carnage, and just a good "feel" to the controls and gameplay. We had never done a full-on action game before, so it was a very good test for us. Based on the feedback we have gotten, I'd say we managed to do a pretty good job pulling it off, but there's always room for improvement.
You can play Massacre Monday HERE if you haven't already, or read on for my long-winded post mortem notes:
The Good
OpenFL and HaxeFlixel performed admirably with the amount of sprites and alpha/blending effects we threw at it. Framerate and performance were a little bit of a concern for us but overall it worked out great as a framework choice.
Based on feedback and watching streamers play, I feel like we really got the frantic/chaos feeling down in the end. We learned a lot about good techniques for "juice."
We did a pretty good job focusing on the MVP features and time management. Nearly everything major was done by the end of the second day. Very happy with our organization on this one.
We got a ton of positive feedback on the victim names and our "ending." We were hoping it would be impactful, but it seems it was even more impactful to some people that we thought it would be. We were glad to see it evoked the feeling we were hoping for.
I didn't originally set out to go for a GTA1 feel to the art, but once it started to get put together, I went with it. Glad to see that mentioned in the comments.
The blood spatters for the squished pedestrians were a fairly late addition, but I think they really helped reinforce a feeling of permanence and chaos.
I was glad to see some folks get a laugh out of the few random wilhelm screams we threw in. Those were literally added 5 minutes before we compiled the final build.
The Bad
A lot of people we watched play seemed to want to be able to destroy the tanks and other military. We wanted the military involvement to be more of a "timer" to keep play sessions from dragging on and force you to dodge and avoid getting blown up more the longer you played. Either this was a poor design decision or we didn't do a good enough job of conveying their invincibility to the player; not sure which one.
We wanted to keep everything to as few buttons as possible, so we went with one action button. I think in the end, however, having two buttons for dash and attack probably would have been a good choice, especially when using a gamepad.
We probably could have included more battlefield feeling with some car parts staying around after getting blown up, and some scorch marks from bombs and explosions. We had originally planned to try to do some of that but simply ran out of time.
We originally wanted to have more car varieties, like cop cars, school buses, vans, and SUV's, but we ran out of time to make the art. Cop cars driving up with cops jumping out would have been a great addition for the early game before the tanks show up.
We also wanted to have a little more variety to the city, such as a park or courtyard/square. Time constraints hit us again.
The game could benefit from a little more variety. For a Jam session where most players play at most 5 minutes, I feel like we probably hit the sweet spot as far as play session length, but if this were a full-fledged game there would need to be quite a bit more to it.
I would have liked to have experimented a little more with some shader effects, like blur, pixellation, or red tinting when getting hit or low on health. A little more visual feedback when near death or after a large health loss probably would have added to the chaos and immersion. We also wanted to try to add a "deafened" audio effect after losing a large amount of health, but never got around to it.
I misspelled "memoriam." Got corrected a couple times on that one 😉
Are we going to expand on this game and do a post-jam version? Maybe, maybe not. We have plenty of ideas, but at the very least we will take what we learned here and apply it to future projects, like the JRPG roguelike we've been working on for the last year or maybe a future action game. There's always more games to be made!