I made a game about speed running and using your weapon for mobility. You can play it here!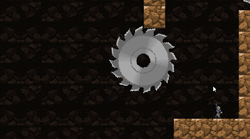 I'm not a jam veteran but I have a decent number under my belt and there are a few lessons I've learned the hard way. These aren't cold hard facts, just things that have worked for me.  This is for people trying to make a complete game. If you are just looking to explore and experiment then the list doesn't necessarily apply.
Don't save title screens and menus for last:  This is probably the least exciting part of your game development process which is why it's so important to get it out of the way. It's the first impression players get of your game. If you rush at the last minute you'll be so uninterested that you'll probably just throw something together. Also menus you can add some extra value to your game.
With Crump Rush I took advantage of menus to display your best time along side my best time for each level. It's a small detail but it added replayability and gave your score some meaning.
Add polish early: A lot of people are going to disagree with me on this one. The common procedure is program your mechanics in with programmer art and then add the polish at the end. There's a problem with this. A lot of times you're not really sure how fun a game is until you've added those extra touches. Especially the visual and audio feedback for the actions you want to encourage or discourage.  For the people that think the graphics and audio have nothing to do with making a game fun watch this. If you want to know more about game feel I highly recommend this book.