Posts Tagged 'iphone'
Monday, April 28th, 2014 12:01 am
Saturday, December 14th, 2013 5:51 pm
It hit my milestone for the entire jam, which was to get the core mechanics of my game working. I'd say at this point what I wanted from the game is 100% done. I'm taking a well deserved break before getting back at it later tonight.
What is the game you might ask? 
Tumbling towers is a game where you only have one direction to build, up. You also can only choose one material to build with: Wood, Ice, or Stone.

Each material has their own attributes (weight, friction, and more). The goal is to build the tallest tower you can!
Right now you can find links to play the web version of the game on the game's page on the site here: http://www.ludumdare.com/compo/ludum-dare-28/?action=preview&uid=22629.
(Also, an improperly scaled Android version is posted as I work on making it look nice.)
What's left? Well, I want to make the UI more usable. MUCH more usable. Also, a friend of mine should be helping me out tonight when it comes to art, so it might become a Ludum Jam entry instead.
Oh. When I'm back at it, my stream will be live on Twitch.TV too. Feel free to check it out (hit follow now so you get notified when I go live again), head to Twitch.TV/AngryFacing. Until I'm live again, check out this recorded YouTube video of me talking about the game's progress.
Finally, development updates of this and my 1GAM project will be on my Twitter at @AngryFacing. Feel free to follow!
Thursday, May 9th, 2013 11:15 pm
[Cross posted from Omiya Games]
Before I go any further, I wanted to make a quick mention that Omiya Game's (the game studio that currently consists of only me) latest mobile game, Touch Yoga was just published on the Barnes & Noble NOOK HD tablets! Don't have one? It's also available on the iPhones, iPads, iPods, Androids, and even Amazon Kindle Fire HD tablets.
---
Anyways, I digress. To compliment the unexpectedly useful things list, I now talk about things I thought were going to be useful, but weren't.
Pen & Paper
I expected myself to doodle and draw a lot of pictures.  Instead, I leave as the cleanest paper yet.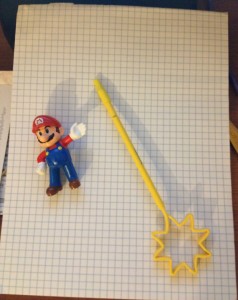 At least it came with a free Mario figure. And speaking of doodling…
Wacom Tablet
My wacom tablet was left untouched on top of my printer. The latter which was also useless, but that was expected for this event.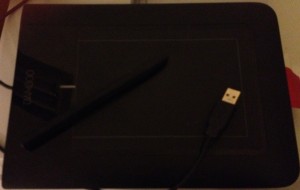 No love for the poor guy.
Fossil Wiki
I ended up using the Wiki more than the tablet and the notepad, but only for two things: first, the 30 minute game brainstorming.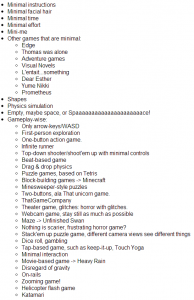 And coming up with the game's title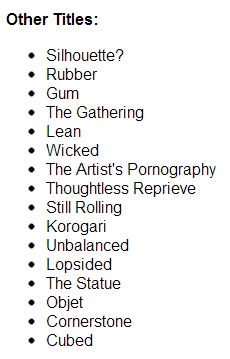 Fun fact: the second best contender for The Sentient Cube title was, indeed, The Artist's Pornography. I decided against it for an obvious reason.
Unity's Pre-installed Scripts
Seriously, I ended up using only 2 scripts in the end product: one for the water refraction, and the edge detecting post-image effect. Everything else? Illegibly coded and completely impractical for the game.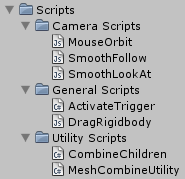 Egypt Wizard is now available in the following apps markets:
* Apple AppStore
* BlackBerry AppWorld
* Google Play [Android Market]
here you can find a resume of the development process.
Promo video:
I'm here to say that my game "Egypt Wizard" has had 2 buys, yesterday , 6 of November
still doesnt count, but I feel like a win, the game is unfinished, but keep growing very fast, a new update is waiting for review and i'm preparing the versions for Android and Bada markets.
Here some screenshots from updated version.
There is a lot of new stuff in the game, lot of hard work and fun.
Game is in japanese, chinese, english and spanish.
Buy game here:
https://itunes.apple.com/us/app/egypt-wizard/id570044761?mt=8

I was travelling throught Spain, meanwhile in the bus I have drawed the things I wanted to do after.
These are the results:
* A new logo of XIXGAMES for the game intro:
* New doors game system, until you kill the mobs around you cant pass to the next room (today I replayed "No More Heroes" for PS3 and this people use the same , ah, guys from Darksiders do this trick also
)

* A new intro, first show the XIXGAMES logo, then run three animations in 3D with a particle system and another in 2D for the play buttons.
* Magic and physicial Combat systems are more efficient now, there is a new spell also (icebolt). Player can die now XD and return to the menu very fast. There are new sound fx also, when you get hitted and new sounds for the spells also, there is a random sound for repeated tasks. Damage is calculated this way:
-- Compute damage with armor and so on
    local nResist = 1.0 - this.Resistance ( )/100.0
    local damage  = magicalPower * nResist
    this.health ( this.health ( ) - damage )
* Added a chest system based on proximity sensors, it works like the Dungeon Hunter (iOS), when you are near a chest, the physical attack button change to a button with a opened chest, I'm working on this now
* Scene loading mechanics, thanks to Davit Masia, who made me the Loading Screen and help me choose the right font for the title
* Camera movement with touch support: this part was a little bit hard to accomplish because of the current Camera Script had already touch controls and rotations in x,y,z
Things to be added:
more mobs
two scenes with 2 simple gameplays
level up mechanics
final bosses!
All these stuff must be done in 8-9 days in total to be able to submit the game to the markets! , btw, I'm getting ready
Things that should be but not
* I'm not gonna add big scenarios, other classes or big challenge with a lot of story, no time
* I really would like to export to consoles but I need to learn the SDK's of PSP,PS3,NDS,XNA and Wii ware
* Complex mobs have been removed due to poly count, they can not be handled by less powerfull devices such as BB's, iPhone's, Android's and so on
This is a video from Pc (Windows 7) this time:
I have made this video:
to show the current progress of the game in about 2 weeks.
Player has animations, touch control pad,physics,low poly geometry, etc
The first level consists in 2 rooms and a mage tower, all the game is related to magic and mages!, i am a bit worried about fps, with 5-7k polys for each part of the full scene (rooms and tower), 4 particle systems of 16 elements each one, collisions, object occlussion, physics, AI, animations (no lights , no shadows), the game is running at 40-50fps…
I am wondering if I would need to reduce the meshes again! Or remove particles, occlussion ,etc, so I can add bloom fx, lights and more action to improve gameplay and game itself: graphics, sounds, music, attack,fx,etc
Hey guys, here is the logo
and a screenshot from the game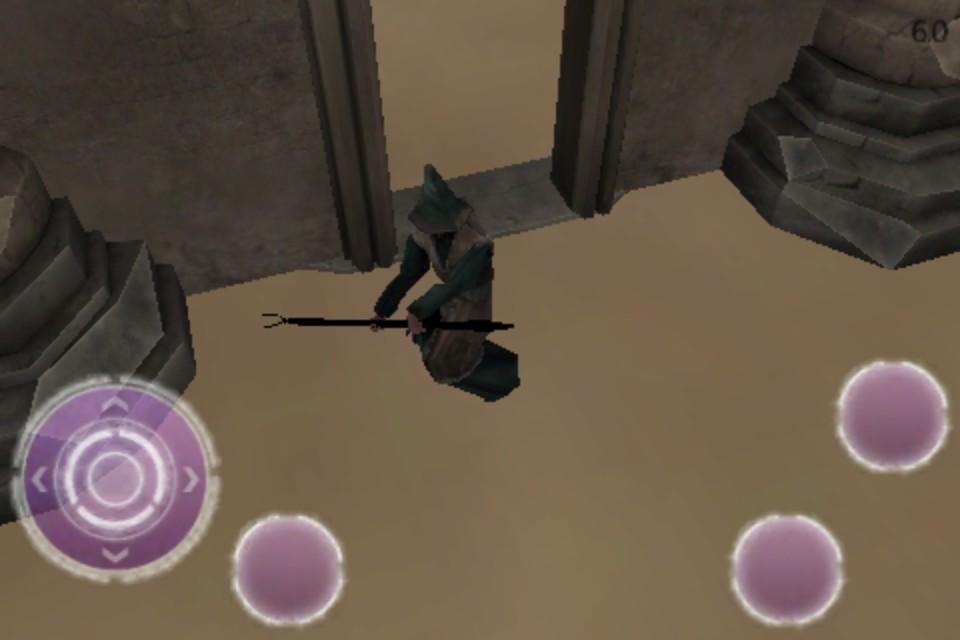 This is the wizard character.
Running in an iPhone 4S with iOS5.1.1 at 60FPS, less than 10k polys for each part of the whole scene, it also contains  4 particle systems for the torchs, a HUD control to move the char and 2700 frames of animations for the model.
The initial scene has a camera trajectory that follows a helper like a trail and end up then with the logo and menu buttons to start the game.
All I can say is that I'm working too hard to make this game really good.
Saturday, December 31st, 2011 2:47 am
Hi there,
A while ago the October-Challenge was held. It went over the entire month, with the simple rule "make 1$ with a game."
I planned to enter this game, but unfortunately the port wasn't ready in time. So now, with a slight (and very miniscule) delay I present my iPhone-game!
Unstoppaball DX is a marble-style puzzler, in which you roll a ball (by tilting the iPhone, no less) through 30 varied levels.
Check out the trailer if you'd like to know more.
Also features a new soundtrack and ball-customization, with 36 balls available.
It's now up on iTunes. Some say it might be the Best Game Ever. (it's not) (it's still fun, though
)
Saturday, November 5th, 2011 2:08 pm
I'm afraid I have to skip this mini-LD48.
I already lost a day to my dayjob, have no idea for a game, and need the time to complete this:
Friday, August 19th, 2011 11:16 am
…. it's just that the GF dropped on me two days ago that she wanted to go up to f'ing Sacramento on Saturday for a birthday (I live in San Francisco). Besides this last minute annoyance, I'm excited about LD #21, but still haven't quite figured out my plan. =)
I'm developing for iOS in Xcode 4. I'll be using the terminal screenshot script that was posted today. I actually used it in the last Mini LD; and it works reasonably well, especially considering you don't need to install any extra software, which is nice.
I have my own small library for iOS games, which is the accumulation of what I've learned until now. There are still some glaring holes, like that fact that I have no idea how to build/import any kind of map haha! But I'm sure I'll figure something out. Last Mini LD, I figured out collision detection on my own.
Hmmm, since a lot of entries include photos and stuff, maybe I should do the same. I'm at work, so I won't be taking pictures of my messy house, however, I started dicking around on some music last night, warming up for this weekend's challenge (don't worry! I won't actually use it. And my "song" really sucks anyway, haha). So I included a few screenshots of that.
Wee!
Hey folks! Pyoing is live on the app store. I didn't do much to it past the compo version, but my friend / co-worker Yann at Lucky Frame made the sounds for it. He also spent all day yesterday throwing together this amazing promo video and website.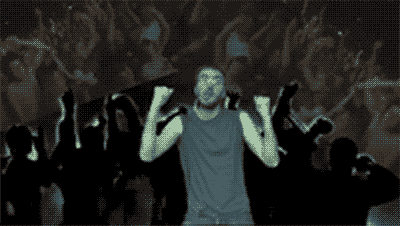 I guess I can do a bit of a post mortem? Eh?
So about 12 noon, uk time I decided to throw my hat into the ring on this LDmini. I was otherwise just watching tv that weekend, and wanted to muck about with my game engine a bit more. I spent about two hours working towards getting something like Rampart in place, where you could place bases, and then you would be able to chuck cannonballs from your base. That seemed to fulfill the war theme, and was something I had been interested in making since the last LD.
At around 4, I went out to have a BBQ and did that until around 5:30pm. It was nice to get away from the compo for a bit and kick a ball around, and eat a ton, etc, etc. While I was there I talked to Yann (the man in the gif above) about the game, and he suggested a few things. First that I should just make crossfire, forget all of the ramparts stuff. Second he asked if I was using box2d, and I said "no, I think I can figure out the physics just fine thanks". When I got home I spent about 5 minutes banging my head against the idea of doing the physics myself, and then about 20 minutes setting up box2d. I think I went to sleep that night with all of the basics in, except for the win / lose states. You could chuck around the balls, etc.
The next day, I got started on it and first put in the win / lose states. Then I did the full game loop with the beginning and ending screens. It was nice to have a tweener library around to get cool animations for everything without much work at all. I play tested it a bunch with my partner, and decided to add the limited shots mechanic. That made the game a whole bunch more even, and about strategy. After that, I still had some time, so I did the retina display version of the game. I had the graphics pretty well integrated with the box2d stuff, so I had to retune everything for the larger masses that were flying around. This resulted in the retina and non retina versions of the game playing slightly different. Hopefully this is not a huge problem. The last thing I did was integrate the audio engine, and throw in a few sfx. They were not super great, but good enough. I think I finished everything up by around 11pm. I want to say that the whole process took about 11 hours of computer time to get finished.
The next morning, Yann did all the sfx over again, and it made everything better, and we submitted to the app store. Done
The final thing was all the promo video, which is basically a scene for scene rip of the crossfire video. That took about a day to do, and we had to learn apple motion. Our greenscreen was a pink blanket purchased from a charity shop around the corner:
Anywho, thats about it! Here are a few promo codes, if you could please post the one you use in the comments, that would be great! If you don't get one, let me know and I can post some more:
A4PE3LMF7AL6
EYJJWAFXKRNL
NFMN6LNJKKMY
Tuesday, March 9th, 2010 9:03 am
Thursday, December 18th, 2008 5:38 pm
Badass Frog postmortem – the 'meh' factor
After my LD #11 'Minimalist' entry was voted "most innovative" game, I've been trying to pride myself as "that guy that makes innovative games". So I thought long and hard about the theme for LD #13, "Roads", trying to come up with something innovative. But the creative juices just weren't flowing, and it didn't happen (I'd also just bought Shaun White Snowboarding: Road Trip for Wii, which was taking time away from 'designing time'). After 12 hours, with no good ideas for a game I was actually enthused about making, I decided to make a simple Frogger clone – at least this way I could hone my Processing skills, and learn the ins-and-outs of Mobile Processing.
Some thoughts about developing for mobile devices
Turns out there is a whole "other world" of mobile development that I just hadn't really thought all that hard about. (more…)