So Ludum Dare 31 voting period finally comes to a close. How did Laundry Day do? Pretty darn well, actually: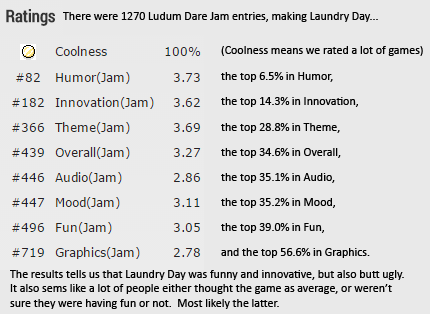 First off, I might as well leak this "secret:" yes, the game is a satire of freemium and social games. It was designed like that from the beginning, from the mundane, boring activity of putting clothes into a dryer, to the comically juicy process of collecting coins and trinkets from the lint trap. This isn't the first time we've posted a satire to Ludum Dare — Not a Clone was also a satire — but seeing that this time around, the game was deliberately uninteresting, this developer had very low expectations.
Not so, it turns out. A lot of people, both within and outside of Ludum Dare have found the game to be oddly addicting. Many commented how hilariously boring the game was, and still managed to find something fun about it. And a few people even managed to figure out what the game was satirizing about.

(That last comment is there because the user clearly figured out our nefarious plan to create a sequel. See, dreamlogician? I told you the volcano was an awfully obvious place to have an evil office!)
Anyways, I've got to give my thanks to all of you who played and voted for our game. We had a lot of fun this time, and hope to make more games in the future!
P.S. Our favorite comment may have to be this golden gem from Newgrounds: