Archive for the 'MiniLD #02' Category
Hey Everyone,
Over the last few days I've been working on a program to manage the playing and judging of games during the competition. I've reached the beta stage and need your help.
Here is the full link – http://keeyai.com/2008/07/16/compo-game-loader/ – please give it a read.
Friday, July 11th, 2008 8:40 am
OK so like we got Time Capsule, which is our router now. Of course my WiFi Adapter won't work with it, so I'm pretty much screwed ATM.
Hopefully I'll be getting a 50ft long cord to connect into the router and be running Ubuntu pretty soon, but until then I won't be online very much at all
Sorry I didn't post my MiniLD #2 entry… no way to upload it
Congrats to the people that finished! I'd play their entries if I could download them…
Hopefully I'll see you all in the near future…
Cheerio!
Edited: Added XP version
Ok, after some great no-brainer advice I hadn't even thought of, I downgraded my openGL and easily made the executable.
You can grab it here for Vista
or
Here for XP
As in the previous post – the idea seems fun to me, but the product just doesn't do it enough. Please have a play through and give me your comments and advice.
One thing I'm sure it needs is a targeting system for the bees. For some reason I took this out mid-development… It was probably before the humans would flee from the bees stinging them. Anyway, now its a pain in the ass to follow humans around, so I'll be adding a way for the bees to track their targets.
Another thing to adjust is the scrolling. I think I'll increase the area on the edges where scrolling starts, but make the distance you pass over it scale the scrolling. In other words, if you are fairly close to the side you won't scroll as fast as right at the side. Thoughts?
Ok, I've been trying to make an executable of my game all morning but I can't make it work. PyOpenGL 3.x has always been a problem because of the setuptools, but in 3.0.0b1 I had a working solution, sort of. Now, however, I can't get that to work and am just running into this error over and over:
"RuntimeError: Unable to find an implementation for the 'win32′ ('nt') platform"
The only things I could find online are similar problems with no responses or solutions.
Does anybody have any advice?
Monday, July 7th, 2008 4:22 am
Didn't spend much time, and also had no idea.. thought I still put up what I got: here
It needs python, pygame and pyopengl to run (..hm, for the real LD, I have to find someone who can make me a py2exe and py2app version of my entry). You can run until you touch the turnip if you want, but nothing will happen even then. Except for the unicorn, it also totally fails the theme and at no point I was even close to an idea
The good things about this mini LD for me though were, I think I know now how I could easily do one of those motocross games.. just need to use 2 or 3 collision circles instead of a single point as I did here, and some spring forces between. Also, I was surprised how easy it was to read SVG files – took me a total of 5 minutes to develop loader code for it (first few lines of line.py).
Sunday, July 6th, 2008 4:51 pm
I know this is past the deadline and what I have is nowhere near complete, but I thought I'd share it anyhow.  I was hoping to have had at least 20 of the 48 hours available, but this turned out to be a rather busy weekend so I only got to work 12 hours on it.  With that said, however, what I do have is pretty decent (though the code is quite messy.)
It wasn't originally going to be a simplified version of Mario.  I thought if I got the Mario part working the rest of it would be a cinch, since the rest of the game would only involve small modifications to the Mario code … Maybe if I had more time.
It requires only Python and Pygame.  I included a batch file and a shell script to help people run it, but if that doesn't work for you just go into the 'lib' folder and have Python run 'main.py'.
Mario can run, jump, collect coins, hit question blocks, break bricks, stomp on goombas, and die.  The controls are 'left' and 'right' to run and 'x' to jump.  The level has one really difficult part, but it doesn't really matter because there is no real way of completing it.
Have fun and enjoy it!
Download: wizard_v001.zip
Sunday, July 6th, 2008 4:07 pm
thats it guys, 48 hours have gone bye-bye, and they arent coming back. out of them however, we have five games!
Movie Preview Generator by Hamumu
Pink Elephants are Go by Kester
And seeing as there seem to be a few games to miss the deadline, they will no doubt be appearing in the MiniLD #2 category soon, so check back for them (or I will be sending my turnip and unicorn army upon you!).
anyhoo, I think most people had fun, and IRC was rarely anything short of hilarious, so props to all who took part
Remember, no Mini LD next month, but dont frown, because its going to be a fully grown LD! and if your desperate for more mini godness, PoV is lined up to be hosting in september. so nobody has to wait too long for some awesome!
– GirlFlash
Sunday, July 6th, 2008 3:30 pm
Finished I guess. The minions didn't make it in. They are so close to being ready but oh well It's already late. I had a unicorn with a horn-stab move all ready too. ah well.
What it needs is gamepad input. And some scrolling, and the minions!
Sunday, July 6th, 2008 2:59 pm
A game, about Dumbo, and the Pink Elephants on Parade.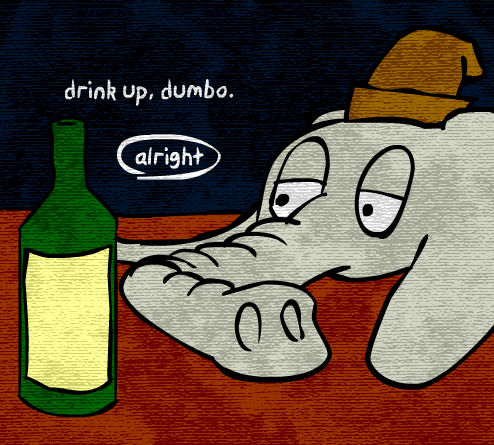 It's a .swf, so it plays online, though it can be downloaded by right-click save as on the 'download' button at the side. Source can be provided if anyone wants it, which I doubt.
I had to finish off by just cutting off the level, because things mysteriously stopped working after the amount playable. Oh well, I then built the scoring system around what's there, so you'll recieve a 'grade' depending on how completely you puffed away the pink elephants.
It's simple, but it's also complete with sound, menus, art, and enough gameplay to classify as a 'game' rather than a demo. No unicorns or turnips, sadly.
Sunday, July 6th, 2008 2:56 pm
Well, I didn't get to do some of the cool stuff I wanted to (no music, boss battles, or moving platforms), but here is my final submission. I'll update this post with screenshots in a few minutes.
It has three levels, plus a trainer level. Cutscenes were written during a caffiene overdose late last night. Overall, it's pretty fun. The last level was created to be insanely hard. If anyone beats it, let me know
Die Hurr – Python Source (requires PyGame and PGU)
Die Hurr – Win32 Executable
Edit: Okay, I beat it with three lives. It was taking me 5 or so. Still, it is pretty darn hard.
Well, I'm not super proud of it, but I'm out of time. I didn't get to music or sound, and there are still some nasty bugs with some of the bee numbers. You can play all the way through though — the levels suck and the art is worse.
Unfortunately, it just isnt that fun. I'll have to get some feedback from everyone to see what can make it better.
I'll probably make an executable later, as well as the time lapse.
And a screenshot: