About Sodaware (twitter: @Sodaware)
Entries
| | |
| --- | --- |
| Ludum Dare 29 | Ludum Dare 23 |
Sodaware's Trophies
Archive for the 'LD #23' Category
The game: Ineptia.
Results
| | | |
| --- | --- | --- |
| | Coolness | 100% |
| #173 | Graphics | 3.53 |
| #234 | Innovation | 3.35 |
| #308 | Overall | 3.18 |
| #417 | Mood | 2.70 |
| #446 | Humor | 2.19 |
| #474 | Fun | 2.73 |
| #597 | Audio | 2.02 |
| #700 | Theme | 2.46 |
Breakdown
Although I've taken part in a few game jams before, this was my first Ludum Dare. I would have liked to have done better overall, and to be honest at first I was rather disappointed with how I scored. Now that I've had a few days to look back I'm quite pleased, although I don't know how I scored so well on graphics because I thought they were pretty bad.
Lessons for next time
My first Post Mortem concentrated on the more technical lessons I learnt, but now I know how I rated overall there's a few more things that have become clear.
Make the theme obvious
The original game plan was to have you start in a cryo-tube, and be woken up by an emergency light. You would then have to travel around the ship, collecting bits for your robot before placing him the various domes to fight the intruders and collect animal samples. It sounded good on paper, but then I came to my senses and realized that 48 hours would be far too short. The domes stayed, but only really on the title screen and help text.
Lesson: You've spent a whole weekend mentally reinforcing how your game fits with the theme, but every other player has no idea. They must learn it in the brief time they play, so make it stand out.
Make the gameplay accessible
I went for a turn-based strategy, which is one of my favourite genres. However, it isn't exactly easy to pick up and play, and it can be quite slow. It's also quite difficult to balance in a short space of time, which led to most of the game being purely driven by chance.
Lesson: The player only has a few minutes to judge your game. Make sure it's spent playing, not reading rules.
Don't worry about ratings
Finding out how you scored is exciting, and is a good was to gauge how well your game mechanics worked. However, rating below what you wanted isn't the end of the world. I scored lower than I had hoped, but got some really great feedback (and if you took the time to leave a comment on my game – thanks! I truly appreciate it).
Likewise, take some time to give some feedback when you're rating other games. Even if it's only a sentence or two about a feature that would work well or something that could be tightened up.
Lesson: When you've poured 48 hour of your time into something, a few words of feedback make it all worthwhile.
Moving forward…
LD #23 gave me a lot of new ideas to work on, and I'm planning on releasing a post-compo version in the next month or so. I went in with expectations about how I'd rate, but instead I learnt far more about games and rapid development.
But next time I will score better
After nearly 18 hours, I finally have something to show.Sadly my pixel skills have gotten a little rusty (well, they were always pretty bad), but progress is progress.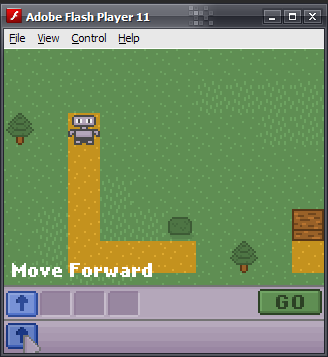 This is a shot from my entry, currently called "Ineptia". You play a robot who must look after a ship containing habitats from a dying planet. The ship has been invaded, and it's up to you to protect the animals and destroy the invaders.
Rather than direct movement, you give your robot commands and then he carries them out. So far you can only move forwards, but by the end of the day there will be a full range of movement (and hopefully some enemies).
The plan is to get full player & enemy movement done today, so tomorrow I can concentrate on adding missions and a more fleshed out story. If I get time I'll replace the awful gfx too
And don't forget, I'm streaming text/screens from my site: http://lab.sodaware.net/game-jams/ld-23/
Like a lot of people, this will be my first Ludum Dare entry, although I've taken part in several Reddit game jams before. I'll be using the following tools to (hopefully) get things done:
FlashDevelop
Flixel
Paint.net
sfxr
Emacs
ChronoLapse (shots every 10 seconds, 28 fps video)
I'll also be streaming text updates live from my site (http://lab.sodaware.net/game-jams/ld-23/). The page will automatically update when code is pushed to GitHub, as well as when I tweet or upload a screenshot.
Good luck everyone!