About Jonathan Whiting (twitter: @whitingjp)
I am Jonathan Whiting, a games developer, keen climber and part time geek.
Entries
Ludum Dare 29

Ludum Dare 26

Ludum Dare 25

Ludum Dare 23

Ludum Dare 22

MiniLD #29

Ludum Dare 21

Ludum Dare 19

Ludum Dare 18

Ludum Dare 17
Jonathan Whiting's Trophies
Archive for the 'LD #21' Category
So yeah, we're pretty far into the competition now. Fortunately I'm pretty far into my entry too. I have a game!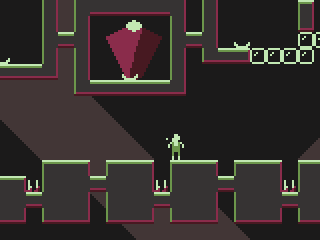 The major surprise difficulty that I've been dealing with today is level design. Yeah, yeah, I know, most people struggle with level design. Typically though I love it, so it was strange to have it feeling like such a chore today. I think the downside to my somewhat unusual interaction between the player and the Antagonist is I've been having to solve completely alien (to me) level design problems. Ah well, I think I'm pretty much finished on that front now, which is a relief.
I've also sunk several hours into making a 'nice' ending for the game. Don't really regret spending so long, with a theme like Escape the game end is intrinsically important. I can only hope the ending I settled on feels okay.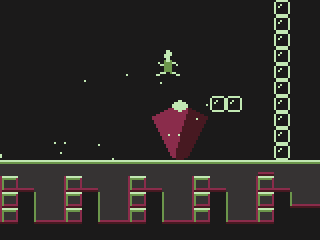 There's still a fair few hours left, but I've an equally long to-do list, so I need to keep the pressure on for the moment. Real 90% complete, only 90% left to do stuff. Fortunately most of the rest isn't *strictly* necessary, so at least I'm not feeling panicked.
I probably won't manage another update before the end, so before I go I'd just like to wish everyone best of luck with their entries. Get it done!
So, back tracking a few hours. Didn't want to waste too much time on my first (fresher) day, so for lunch I just quickly poached an egg. Was pretty excellent though.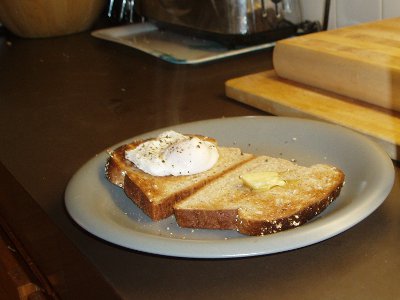 Game is coming along pretty nicely. I've spent the last 3 or 4 hours tweaking things and doing some level design, trying to get a decent "first 30 seconds" together. Oh, and wasting more time doing rudimentary front-end work than I probably should have. Ah well, it's all good.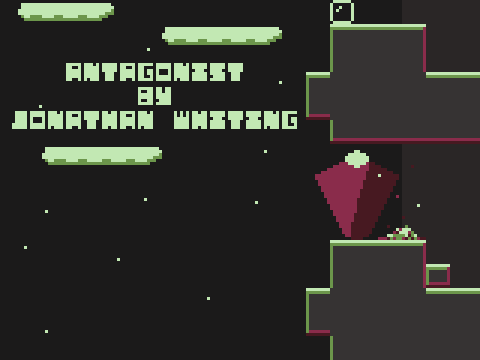 Oh, and, yes.. New Build
Making much better progress than my protagonist: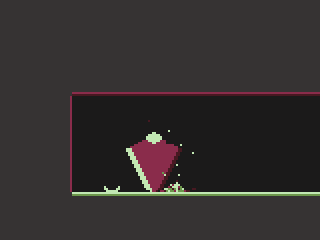 New build
Feeling pretty hopeful that the mechanics I'm trying are going to work out pretty well. Loads of work to go, obviously, but it's going well so far.
It was a long time ago, I'm actually getting ready for lunch now; but here's what I had for breakfast.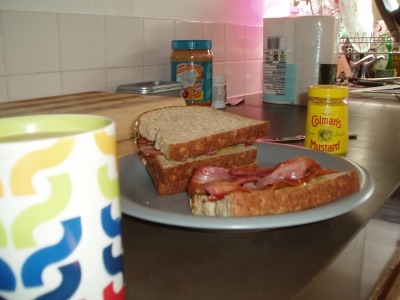 BACON!
Work up at 5am. Like a kid on Christmas day I just couldn't wait to get started. Ah well, it's all good.
Fairly happy about the theme really, I've been wanting to do an escape game for a while now.
Problem: I've been wanting to do a 3d escape game.
Problem: There's no way I'm setup to make a 3d game in 48 hours yet.
Solution: I'm going to try and make a 2d version of my idea. Not sure if this is going to work, but hey, might as well try.
Started off trying to get my art direction going a bit: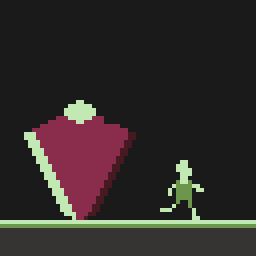 Now working on the code, check out my first build.
So, yeah. Three hours since I started, and going strong. Think it's time to actually get up, shower, breakfast and stuff.
So yeah, yet another entrant. This'll be my 5th LD; this time I'm feeling super hyped, like, even more than normal. I hope this is a good thing.
I've spent the past couple of evenings getting prepped. Updating my basecode, practising my weak spot (music), heck, I've even tidied my room; I just care that much.
I'm using Flex; GIMP; as3sfxr (or bfxr if I get my act together); FLStudio; Notepad++ and whatever else.
My base code is at http://jonathanwhiting.com/ld/21/base.zip. It does some basic entity, tile and sound management, and has the husk of a primitive front end system. If you wan't a point of reference it's probably pretty comparable to using FlashPunk of Flixel. If you're not me it'll be pretty terrible!