About hcs
Hi, I'm Adam Gashlin, aka hcs. I live in Camarillo, California. I did a BSc in Computer Science at Rutgers, where I was on the ICPC team every year and participated in the World Finals in Tokyo in 2007. After school I spent two years at IBM, then about a month at a startup. Currently I'm working at my first real game development job.
If you'd ever heard of me at all, it might be because of my work on N64 audio emulation (USF) or streamed audio decoding (vgmstream).
Entries
| | |
| --- | --- |
| Ludum Dare 19 | Ludum Dare 18 |
hcs's Trophies
Archive for the 'LD #18 – Enemies as Weapons – 2010' Category
I've submitted Master Exploder. I learned that a design requiring a large number of interesting levels is a bad choice for LD. I also learned that I'm capable of putting out at least recognizable graphics. There's some hours left, but I'm exhausted and the game does everything I'd wanted it to.
I have 11 levels of my game complete, thought I'd put it up for someone to poke at.  Still placeholder graphics, time will tell if I get around to fixing those at all.
Clickable link!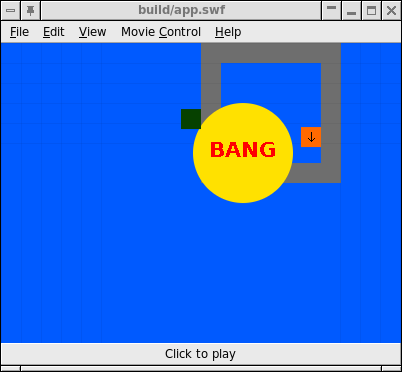 Yes, placeholders, but enemies can explode and take out others (and the player, the burnt green square in this shot).  About 10 hours worth of code behind this, looking forward to actually putting some levels together tomorrow.
Well, while I wait for a debug gnash to compile (trying to track down where this freeze on mouseover is coming from), here's a shot of my current state 5 hours in: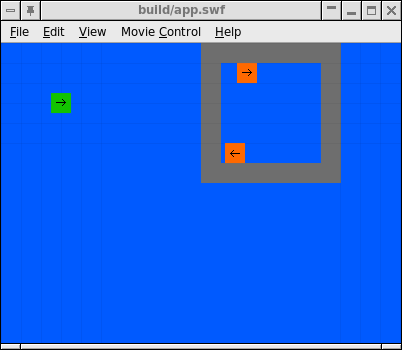 So here's the thought:  Top down, player has the ability to cause any enemy within some radius to explode, destroying everything nearby.  Has some set number of times he can do this per screen.  So by variously waiting on or luring enemies, can kill the excess enemies and break down walls to progress.
As is now traditional, my desk, and surrounding Space.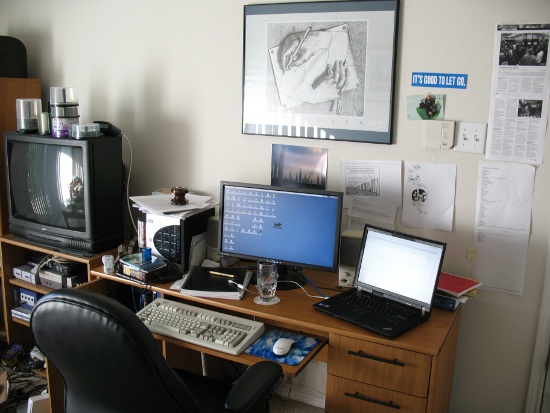 Hi, this is my first LD, and really my first game compo since the Minigame compo in 2003 (where I submitted the only 1k NES game).  I enjoy programming contests and I'm trying to get better at making games, so I'm really looking forward to it!
I'll be using MTASC and swfmill (and likely Inkscape and Gimp) to work in Flash, maintaining swf v7 compatibility.  This due at least somewhat to the idealistic desire to have the game work in gnash.  I've been working on a few games in this environment for about a month, so it's at the top of my mind.
I hope to enjoy playing y'all's games!