About randomnine
Entries
randomnine's Trophies
The Darwin Award for Least Safe Safety

The 'Creating the Exact Same Storyline as I Did' Award of the Great Minds Think Alike Society

Awarded by

the31

on December 23, 2010
randomnine's Archive
I already wrote up a quick post mortem on my blog. This is a longer version with more info – if you've read the other version, skip down to "What went wrong" and read from there. Cheers!
The theme this time was pretty weird, so I was maybe considering skipping, but I got inspired and then I did it anyway. And I am SUPER PROUD of that because I got to do some cool sprite animation, script some cutscenes and make a game in a genre I haven't tried before: the genre of PUNCHING.
PLAN
Every time I do a Ludum Dare, I have a vague idea of what sort of game I want to make or what skills I want to develop before the theme's even announced. This time, inspired by playing Nicolau Chaud's Beautiful Escape: Dungeoneer (review) last week, my plan was to make something contemporary and human. That led me straight to the idea of making a game where you punch people who don't have rape alarms until they're scared enough to want rape alarms. For their safety.
Consequently my entry "Vigilance" is a game about suspect charities, lonely women walking through empty parks at night, and pretending you're a ninja.
Below the jump: my dev process, including roughly how long it took me to do the various things in the game, and a quick post-mortem.
My game Beacon came 2nd in LD19 back in December. Since then, I've been making it better! I promised I'd post here when I got it done, so here it is: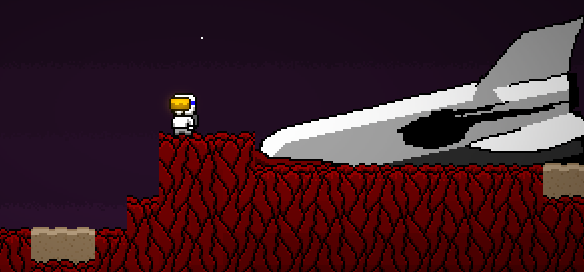 It's got its own page now over on my site. If you liked Beacon, I'm fairly sure you'll like this version more!
So here's how I wrote Bacon Beacon.
I started LD19 with ambition, 'flu and no preparation or basecode. I wanted to do a sprawling content-driven platformer, both to practice storytelling and to see how big a scope I could hit within the 48 hour limit.
My initial goal was to build a fairly linear "Metroidvania" type game where you'd explore and then get to an exit. I figured I'd come up with a narrative using the theme within that game structure once I'd started.
Then my internet connection was cut off forever.
Here's an old one – the winning(ish?) entry from the 4th LD48. The theme was Infection, here interpreted by a cheeky wave of communism spreading through cute icon-based conversations! From the readme:
(more…)