First I started by making quick prototype using scripts I already had from my previous games.
After getting basic zombie AI and player script working I moved to drawing sprites.
Player needed to rotate around, so I had to use 12×26 sprites size insted of my usual 8×8.
I tried to use color combinations I learned from drawing manga.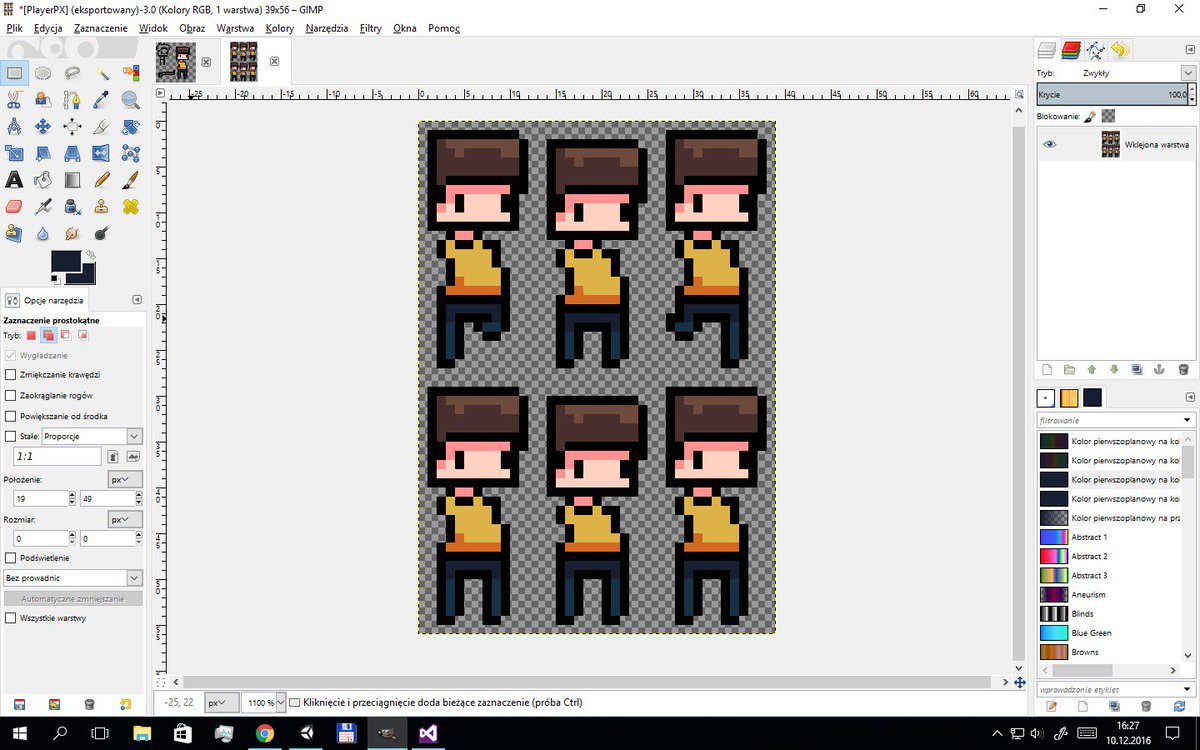 I didn't have any idea how to draw walk cycle from isometric perspective, so I sticked to simple animation.
For some reason I decided to use unity animation system.
Considering how much time I spend on turning off settings that break pixel art animations and setting up animator tree it wasn't a good decision.


Then I added two additional enemy types: one that follow player and shoot him when he's close enough and turret.
Score system was very easy to impement, I wish I spent a little more time on it and add some animations or effects.
After that I drew a simple enemy sprite.
I though that I will differentiate enemies by adding color variations, but it didn't looked right so every one of them looks the same.
(Another thing I didn't do for no reason and now I regret it.)
Remembering how sterile my previous games looked I added few things lying on the floor.
If I had some more time I would add script placing them randomly but the deadline was looming and the game still wasn't fully functional
.

Next few hours I spent on setting up UI panels.
Thanks to TheNumberGuy I didn't have to struggle with music, so I just generated a few sounds using bfxr.
I playtested game, tweaked few values quickly and uploaded it on itch.io and ludum dare.
I still had some time until deadline, but it was already past midnight and I was afraid I will do something stupid or just fall asleep on my keyboard.
What went well:
The game doesn't have any horrible bugs, everything works and I really like the final look of it.
What went wrong:
Adding a few details would help the game a lot.
I wish I added some kind of shop, bonuses or weapon variation to keep players longer in game.
Also the game feels very ordinary, it is just a top down shooter.
Seeing all of the other ludum dare games I noticed that adding a little twist to game, makes it much more outstanding and interesting.
Conclusion:
I won't probably continue developing this game but it was a nice opportunity to quickly test my skills, experiment a little and deploy game in small amount of time.