About mklee
Entries
Ludum Dare 31

Ludum Dare 30

Ludum Dare 27

Ludum Dare 22

Ludum Dare 21

Ludum Dare 19

Ludum Dare 18

Ludum Dare 17

Ludum Dare 16

Ludum Dare 15
mklee's Trophies
mklee's Archive
Gotta get in on Ludum Dare again this year, just the break after working on getting our first game a few weeks ago. The tools of the trade:
* Code: OpenFL/HaxeFlixel
* Art: Photoshop
* Sound: sfxr, bfxr, Audacity
* Misc: Git, Sublime
Oh yeah, and with time-permitting I'm going to try to get an Android build running on one of these babies.
Happy jammin' to everyone and good luck!
New city, new stuff, yet same old Ludum Dare.
Goals: Finish a game.
Tools: Flashpunk, FlashDevelop, Photoshop, Audacity, the usual suspects.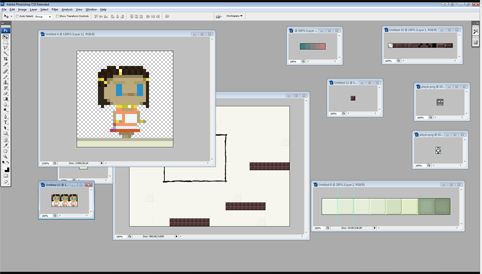 Working on cleaning up the visuals and getting something presentable. The mechanics are turning out quite nicely so far and I've integrated Ogmo into the mix.
Can't believe it's already time for another Ludum Dare. Going full steam for the competition and not the jam!
CODE AND TOOLS
* The always-awesome Flashpunk library
* FlashDevelop for my coding needs
* My own library of useful things (grab it here)
* Sfxr for da sounds
Going to be taking screencaps, posting regularly, using Twitter (follow @drinkycode), and posting for #ScreenshotSaturday. Let's do this thing!
Play it here or grab the source.
Corpse Runner, a (very) simple maze game is finished enough for the competition entry. Made today after scrapping my initial project, it's just a maze game with a single twist. Your goal is to find the exit to your maze within the time limit. However your time limit very very short (just 15 seconds). Plus the maze is very dark and you can only see your immediate surroundings.
The twist is that at any point you "sacrifice" yourself for the next maze-goer. The next person will be able to "use" your corpse to extend his time limit and each corpse leaves behind a small amount of light.
I started this game this afternoon after scrapping my previous idea which had a neat mechanic that just wasn't feasible within the time limit. The maze was going to be a bit more full-featured, with keys that needed to be found and multiple doors to unlock before escaping. However the game is so simple that adding any more tedious mechanics just made it even less fun.
I like the mechanic of dropping corpses and using them in future player runs even if the execution here is pretty limited. I might take some time and investigate it a little further in the future with a different game.
Anyway Ludum Dare as usual was stressful, frustrating, and yet simultaneously a blast as usual. Best of luck to everyone else and I look forward to seeing what gems other people have made.
Declaring myself ready and willing for another awesome Ludum Dare.
Coding:
-Flash w/FlashDevelop IDE
-Main engine library is Flashpunk 1.5
-With an assist from Noel's Advanced Platforming Engine
Art:
-Adobe Photoshop CS3
-Color palettes from Adobe Kuler
Sound:
-The immortal Sfxr by DrPetter
-Audacity for editing
-Sound effects from freesound.org
-Public domain songs from archive.org
Will be listening to:
-Anamanaguchi
Will be playing:
-Team Fortress 2
Let's do it!
Edit: Since the question of public domain/sample materials has come up I should clarify I'm probably edging more towards the jam portion rather than the competition one. I will adjust accordingly depending on how I feel about the game near the end.
Although it's not as finished or feature-complete as I would have liked (what is with Ludum Dare), here's my jam entry Cannonon. A simple top-down 2D shooter where you hack weapons to take control of them. Includes 3 simple levels and two different types of weapons.
View the entry here or play it here.
Looks like I'll be submitting my entry for the jam and not the competition this time.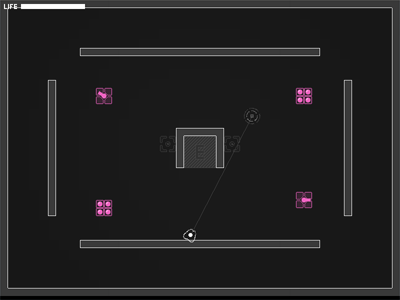 But everyone can try out what I would have submitted to the competition! Jump to this link and play the prototype for Cannon Hack.
Oh Ludum Dare, just when I think I'm done you pull me back in.
Tools I'll be using this time include:
* The Flashpunk engine courtesy of ChevyRay
* To help build maps I'll be using Ogmo
* To add some sound to the project I'll be using the dual tools of Sfxr and Audacity
* And FlashDevelop is the IDE
Good luck to everyone this time! And here's hoping for a really awesome theme (that isn't double rainbows).