Sort of. Been slacking quite a bit – had a 15-min nap, internet browsing, supermarket visit. That said, I now have an acceptable level switching system which is good.
Next up:
Fix Level 2 to make enough room for the player character (turns out my collision detection requires 2-block hallways)
Rewrite the render() method to render each level's enemies individually
Sort out combat properly – attack with spacebar rather than automatically winning
Give dudes HP
Design some levels
Give it some… oh I dunno…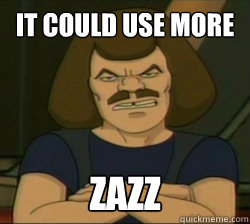 Ah, yes.
Either way, I'm pretty pleased because I really think I'm going to have a deliverable at the end of this. Heck, I wouldn't be too sad to hand in what I have already and there's still ~2/3 the time to go. This means I can happily say I've already met my only target.
[x] Make a game