Hi everyone~
I enjoy reading everyone's post mortems, so I felt I should add my own to the mix. My game was Evolution Dungeon, a small roguelike adventure.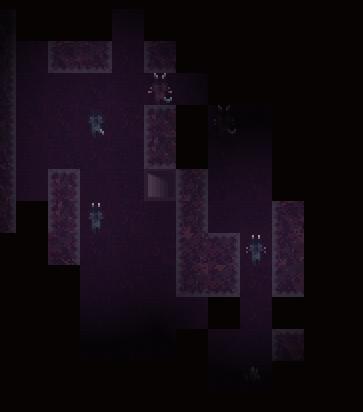 What was intended: I wanted an RPG that used DNA/evolution for advancement, rather than levels or experience points. This was my interpretation of the theme (as your characters inherit better genes, their appearances change). Of all the LD games I've made, the actual gameplay for this game is closest to what I imagined. There are three genes which contribute to characters' abilities in battle using a rock-paper-scissors like relationship. When an enemy has been defeated, you can merge one of your character's genes with the opponent's. The merge averages each color's points.
Things that went well: Level progression turned out pretty well, although there is a pretty steep penalty for leaving a level before it has been played out.

I'm happy with the maze generation algorithm. For the amount of time I had to work on it, it generates a pretty nice variety of floor plans and features. It's not a great algorithm, but it should be a good base for one.

The basic process is this:
Initialize a 32 x 32 array of tiles. Mark each tile as a wall. Then, carve out a small room in a random location on the map. This will be the starting room. Finally, for each wall in the starting room, mark a doorway.
Pick a random doorway
Pick a random feature (hallway, square room, ellipse room, junction)
Determine if there is enough space to build the feature. If there is not, go back to Step 2.
Mark the new room and a new doorway for each wall in the new room (except the doorway that currently joins with an existing room)
Repeat from Step 2 until a set number of iterations have taken place.
Since each doorway has an equal probability of being selected, the generator tends to clump rooms in a blob (such as in the two illustrations above). Given the modest 32 x 32 canvas, this is probably okay. A probability distribution that gives higher weight to doorways further from the starting point may spread things out a bit. I'd also like to have more types of features. The maze generator took up a lot of my 48 hours as it is, so I should be glad I got what I have working.
What didn't go well: The art is very dark. The main reason for this is that I had planned to include dynamic lighting. But I ran out of time to add light sources.
As a few people commented, it's not immediately obvious how to advance. Since each gene (red, green, or blue) is strong against one other color and weak against another, one strategy is to have each character specialize. The lack of power-ups makes this strategy hard to employ in early levels. You can only regain health by being reborn. You often just need to take whatever you can get.
Another popular comment–control. The multiple character mechanic was inspired by a game called Exile: Escape from the Pit. That game had two movement modes. A "battle mode" let you control your party's characters individually. Otherwise, you could merge them all into one tile and move as a group. That seemed like it would be too clunky in this game, given the frequency of battles. Designating one character as the leader and using pathfinding may have been a better solution. This might have simplified control transfer, too–since it'd be a non-issue for general exploring.
Moving forward: This was one of my favorite LD games to work on. Although I don't think it's my strongest entry, I think it has more potential for further development than other games I've put together. In particular, there are currently no special moves. The three genes merely affect the probability of hitting an opponent, and certain visual features (claws, tail, horns). There's some opportunity for more variation in the characters, as well as the environment.