When the Ludum Dare compo ends, the judging begins, and it is an overwhelming task. There are SOOOO many games to play, which is thrilling! Players will dip in and sample lots of games along the way… but you want more than that. You want folks to get in, stay engaged, and see all the cool stuff you have to offer. I have had some success in doing exactly that, and I want to share my techniques with you.
Tell Them What's Coming
Almost all my LD entries have been wave based, and each of those waves introduces players to a new concept. New power, new enemy, some new gameplay piece. I want players to know this, so the wave entry text talks about it right at the get go.
I didn't invent this concept, it's a trick as old as Joust:

I do my best to use this concept in all my games. 1111, while it doesn't have a wave introduction, makes very clear that as you rank up, enemies do too, and each rank introduces a new number to do battle against. When you finally clear the angelic 9s, you win the game.
Wave based gameplay often means that samey enemies just pile up faster and stronger until you die. Players will catch on to that, and the gameplay break between waves is often a point when players will say "Ok I've seen enough" and drop out. But if you remind them that there's more and newer adventure right around the corner, they'll stick around.
Let Them Party As Hard As They Want
The best way to sum this up is Don't Kill Them, Or Make It Hard To Die. Game Over is the perfect time for a player to say (again), "Ok I've seen enough" and there's a possibility that they miss out on fun content.
1111 Has a generous life bar, and when it runs out you simply drop a rank. It's very difficult to lose permanently.
Demon Truck, Cave Harrier and Gridshape Get are all timed and discrete experiences. You can't Game Over, but you do take hits and your score is affected by your performance.
Blue Helmet Beatdown and We Must Protect Lich House do have Game Over conditions, but it is exceptionally unlikely that the average player will stumble into them in the early game. Even truly hapless players are almost guaranteed to see a good chunk of gameplay.
Game makers may balk at this advice, after all, games that are too easy don't grasp the player in the long run. However, in Ludum Dare your goal isn't the long run, it's making sure they give your game enough time to experience it fully. That may mean five minutes, it might mean ten, it might mean three. You want to remove barriers to completion, but still challenge them to do their best.
Use The Game To Make Your Levels
This may be a tough one if you aren't used to procedural generation. If your game is wave based, you want the waves to be based on what players do, and not necessarily where they do it. If you have to hand-build environments for each level, that drastically limits how much you can do, *and* chews up time you could using making your game more fun.
Now if you're making a puzzle game or something that requires specific events to transpire at specific locations, maybe this advice isn't for you. I still think it's a worthwhile effort to train up on procedural generation before your next LD.
1111, Lich House, Demon Truck, and Gridshape Get are all set in open environments that don't change. What *does* change is the gameplay elements created by the monsters and player powers.
Cave Harrier is also in an open environment, however each zone had unique art. That was a must to try and match the Space Harrier feel.
Wreckbeard was a Shinobi/Rolling Thunder clone, which meant multiple heights of platforms were a must. So I created platforms and blocks, then placed them procedurally when the level was formed. Simple rules for height and collision meant the level was playable.
Reward Them With Your Best Gameplay
This advice might raise massive alarm bells, especially for developers who've worked on larger indie or AAA projects. A Golden Rule is that you put your best and most polished gameplay first because that's what all your players are going to see, only the hardcore stick around until the end. For an experience that lasts hours and hours, I completely agree. But the LD games are short, and if you are using wave based gameplay, each wave builds upon the last until you finally emerge into an environment where the player is at full potential and the challenges are out in force. The journey is short (again, three minutes? Five?) so the reward is in reach, and if you…
Tell them what they'll get
Allow them to play unhindered and
Have a variety of procedural content,
Many more players than you expect will see that reward. If you'd like to see these concepts in action, [blatant shill]check out my LD37 entry, We Must Protect Lich House![/blatant shill]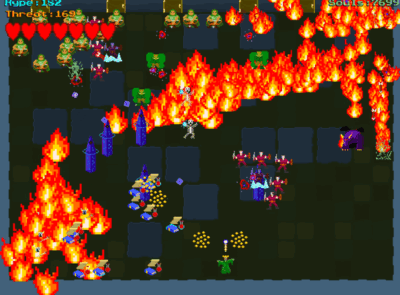 Thank you and good luck!