About Gallefray (twitter: @@Gallefray)
Entries
Ludum Dare 29

Ludum Dare 27

October Challenge 2012 Unfinished

October Challenge 2012

MiniLD #37

Ludum Dare 24

MiniLD #35
Gallefray's Trophies
| | |
| --- | --- |
| Mastering Vectors Award | Helped the New Guy! |
Gallefray's Archive
So far I don't have a name for this game, but it's a cross between nethack and SPACE.
Here's what I have so far:
There are three basic storylines that I cannot choose betweem:
1) You have crashed on a planet, you need to find resources else you'll die, you detect caves with a recently updated signiture of supply crates using your tricorder, so you set off in search of the supplies.
2) You've crashed on a planet, unfortunately this planet is as close to its sun as mercury is to ours, so you need to get as far down into the caves as possible before daytime comes and you're burnt to a crisp.
3) You've crashed on a planet, unfortunately this planet is far away from its sun , so you need to get as far down into the caves as possible before night comes and you're frozen to death.
Hopefully I can get in some more of the game in before I go to bed tonight!
Hey!
I'm joining the ludum dare 29 jam with a dude(ss) called `composer`.
Hopefully I shall actually complete my game this time >_>.
Tools:
Editor: Sublime Text 3 / Vim
Game engine: Love2D
Art: Gimp/Pyxel Edit/Graphics Gale
Sound: ??
Possible Base code: https://github.com/Gallefray/lua_platform_base
Timelapse: Chronolapse or Simple Screen Recorder
I shall be streaming at: TwitchTV
[NB: there'll be variable quality (240p - >320p)]
You can find me on twitter here.
I'm in I hope!
The tools I'll be using are:
Programming Language: C & GCC – MingGW – Emscripten
Game engine: Homebrew -> https://github.com/Gallefray/QuackLang
IDE/Text editor: Sublime Text 3
VCS: Git & Github
Art (If any): Paper+Sharpie, scanned into PC or Pyxel Edit with WINE.
Music: Live recorded [insert instrument here] or Klystrack.
I will most probably be doing a timelapse if I can't get livestreaming to work in the time between now and saturday
– Gallefray
I've finally finished it
"Blobolution"
http://www.ludumdare.com/compo/ludum-dare-24/?action=preview&uid=13889
I've done lots of work but cannot think, so I'm going for a walk around the block to clear my head.
Anyway, here's what I've done so far: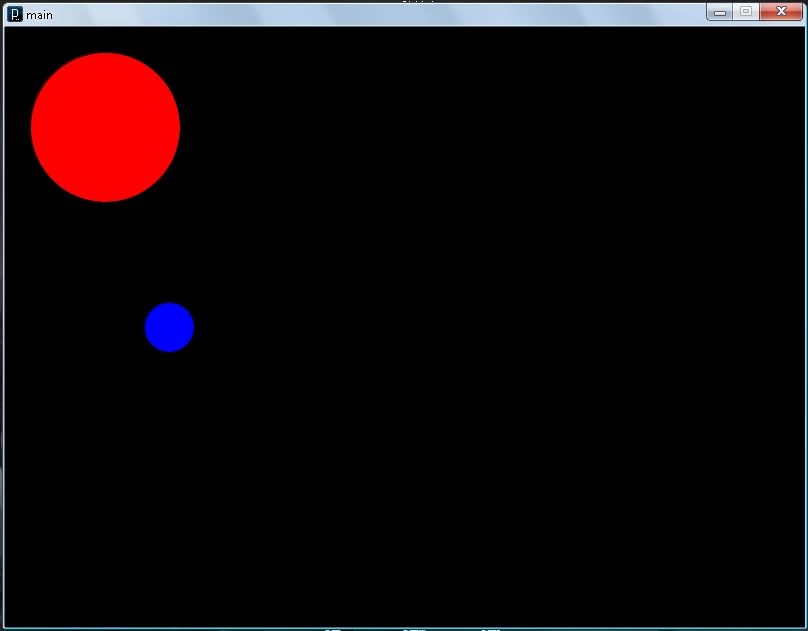 It doesn't look very interesting, and it isn't, yet.
If you collide with the bigger circle, then you get absorbed into it and game over.
more is coming soon.
I'll be posting my timelapses on yt.
on my one account (Minicooperproduction)
or my other one (GallefrayVBS)
I am definitely in now, unless my cold disrupts all thinking D:
Most of the stuff I will be using:
IDE: Processing IDE
Graphics: pen and paper, Graphics tablet, GIMP, mypaint, paint.NET.
Level editor: coded by hand
Music:(as music is my hobby:) banjo, violin, keyboard, mandolin, flute, ardour, audacity(and the program ;D ) a good mic and some other instruments (I'll specify on my first release).
Language: Processing
Librarys: don't know yet, they have to be built into processing, though, so I will say on my first release
Timelapse: Chronolapse on both machines, and I can hopefully get a webcam hooked up to chronolapse too.
and a fujifilm finepix 21500 to do some of the photos(food and such).
I've probably forgotten a few things, so I'll let you know in my first release!
good luck to everyone else!
[=+gallefray+=]
I've been working on a game as a warm up to the LD, to get my brain in gear. This morning I realised that the code I had for the level design will not work/be very hard and laborious(is that a word?) to program
So all of a sudden my self-esteem has gone out of the window, and I'm on the verge of sinking into one of my progrmming depressions ¬_¬ add to that the fact that the computers in our house are all over the place and one of the ones I set up to use, I don't know whether I will be able to use it on friday – saturday.
So, I might be participating, I might not. If I am able to, you can expect something graphical this time round.
Good luck to all of the people who are taking part and (hopefully) see you on IRC next weekend!
[=+Gallefray+=]
I'm in for my (technically) first 42hr LD.
I (hopefully) will not be making a text game this time, but that's if I can get collision physics to work in processing.
If not, I'll be making a rogue-like
I'll detail the tools I'm going to be using later
good luck to everyone else involved!
Gallefray
I'm going to be rebuilding level 2, I could have had the game released 6:00pm yesterday! *sigh*
oh, well.
I was 10 lines from completion, and then an error came out of nowhere!
My aim was to submit it by tonight, but it's late and I'm tired, and I think it's the interpreter…
So I'll continue it tomorrow.
*Sigh*
Hello! This will be My First Ludum Daré! I'll be programming in Inform 7 for the miniLD, but by the time the full blow comp in august, I should have learned graphics programming ::D
I'm 14 and I'm all the way in wales.
Thanks for being such a nice community!