About Noel Berry
I'm Noel, I design and make games/websites. Yup.
Entries
| | | |
| --- | --- | --- |
| Ludum Dare 22 | Ludum Dare 21 | Ludum Dare 16 |
Noel Berry's Trophies
Noel Berry's Archive
Got quite a bit done today, and I feel like at this point I'll probably be able to finish up in time. Working on a game about Lamarck (who created a competing theory of Evolution around the same time as Darwin. Lamarck's theory is incorrect (mostly?), but is still an interesting idea). Matt Thorson came up with the idea to make a game about it and I have since been playing around with that. It's turning into something kinda interesting!
I'm spending way too much time on art, however. I need to take a break from that and work towards the actual gameplay and get the main mechanic fully working (that involves Lamarckism).
(click image to view full size)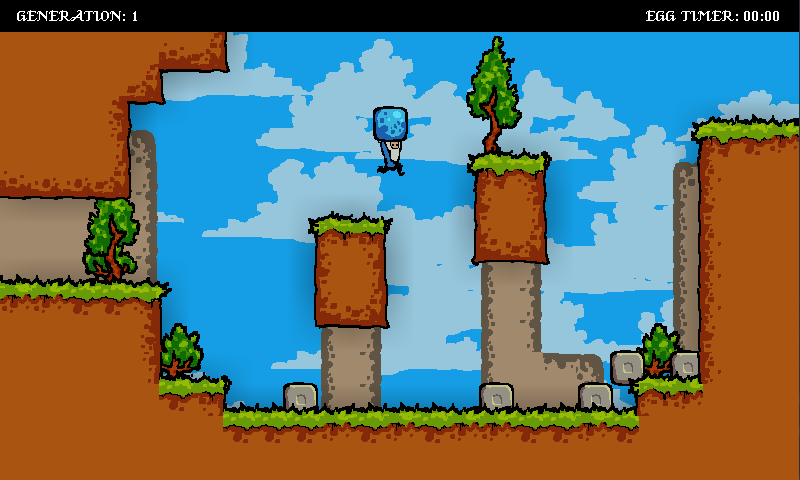 I'm definitely in! Will be working on my Ludum Dare entry from OrcaJam, Victoria, alongside a bunch of developers there. This is going to be a lot of fun.
I am using:
Flash Develop
FlashPunk + AS3
GraphicsGale
Photoshop
SFXR
I have no idea what I'll do for music yet, but I'm sure I can sort something out during the 48 hours! 😀
Wasn't sure if I was going to make it, but Abandoned was completed in time.  Feels pretty good to get this game wrapped up and submitted!
Alone. On an abandoned space station. No where to go.
You play as a little guy stuck on an abandoned space station, with a grappling hook as your only companion. You can give it a play over on the submission page!
That's not going to be the name, but I'll think of something later. Going to stop for the night and wrap this game up tomorrow. Made considerable progress though, so I'm pretty happy. You can play it below the screenshot.
PLAY IT
(Arrow keys + X to do stuff. hold UP to aim UP)
Off to a pretty good start here. Not too much to show yet, but I've got a mockup underway that's turning out pretty well.
 Hopefully by tonight I'll be able to actually get the basics of this running! We shall see.
Made a bunch of progress, but I doubt I'll make the deadline at this point. I still have a bunch more stuff I would love to add, but I don't think it's going to happen in just under 4 hours. You can check out what I have so far below, though! Going to try to rush the last few hours and get some basic enemies in, but we'll see if this actually happens.
You can play my current build here. It will continue to be updated as I make progress.
I didn't get started until just a few hours ago, as I was pretty busy on Saturday. With only 8 hours left I really don't have too much to show for it and practically no gameplay. I'm hoping that by the time this is done it will be at least playable, but we'll see I guess.
You can check out what I have here.
Edot: whoops, misspelled emergency. My bad 😛
I'm way behind, and have practically no idea where my game is going. I still have to program a lot of things, though the basic engine is done… Need to program some enemies, finish some sprites, complete the world/map, and also think of a story… in like what? 7 hours?
😛