About chr15m
Entries
| | |
| --- | --- |
| Ludum Dare 34 | Ludum Dare 17 |
chr15m's Trophies
chr15m's Archive
Phew, managed to finish a very basic game. Play it.
Hacked version of jsfxr.js by Eric Fredricksen lets you share sound effects by URL / permalink.
Example alien sound:
http://sfxr.me/#5B745WpuiiNxJmKw9AL4aDd75n8pagHL8yYiTfjioHH37tW9WWZhAL9WbBB2fkhoG7oViRWf2SnjsjMNyHtZBwukEFDgwv42KA4c3UexZ5jCTk32g7hiXULDW.
You can use the generated sounds in your own HTML5 game code: https://github.com/chr15m/jsfxr#use
Between family fun times I am going to try and put something together. I'll be using jsGameSoup of course!
Hey LD48ers,
Just wanted to post a quick heads-up about my cross-browser Javascript game dev library, jsGameSoup.
I think you will find it a very quick way to make a game and get it in front of players! For example, I made this demo in a few hours.
Have fun!
That was fun, thanks for having me LD#17!
Unfortunately my server has crashed just as I submitted my final entry (which is web based). Hopefully some people will still see if after my server comes back up. It's probably my inefficient server side code which is crashing the machine. Oh well!
2am, it is time for sleep.
here is the screenshot of where i got up to.
you can click around the procedurally generated world to have hovergirl teleport there. unfortunately no other gameplay was implemented. if you have firefox, go here to test it yourself. if i get time tommorrow morning i'll make sure it works under webkit browsers (safari, chrome) and then add whatever features i can before the competition end. probably not many!
overall i'm quite happy with this as a technology demo of what is possible with just plain old javascript + images in the browser.
i woke up this morning with a collosal hangover. probably i shouldn't have gone to that party. oh well.
anyway, today i wrote quite a lot of code. i have a procedurally generated world in the style previously posted about. once i get the character above into the world then it will be vaguely more interesting. unfortunately i don't really have any game mechanics whatsoever to speak of, and probably won't do so by the competition end, or before i go to sleep. oh well! i'll see what happens i guess.
Graphics style update:
No real code written yet, but I almost have my framework together to the point where graphics are being displayed on the screen and I've got a good idea how the architecture will work.
My initial idea for this competition met with tradgedy. Blender3d runs at an abysmal frame-rate on my new Ubuntu install. Oh well, next idea!
I did a bit of browsing for inspiration and of course came across Dan Cook's PlanetCute sprites and SmallWorld sprites. I think I will try to emulate that styl a bit when designing my own graphics (although not as good of course!). The great thing about those graphics is that they are extensible – you can layer them together in a way to make something larger from simple graphical elements.
I went for a walk and thought about what technology to use instead of Blender3d. You can make a 2d game with almost any technology. All you really need is something to display sprites, and HTML5 has this functionality.
I've started hacking on something which runs in the browser, using basic graphics, procedurally generated worlds. My goal for today is to get a virtual world going that you can walk around in and then I will see where I go from there.
update: i just remembered these old character graphics i made: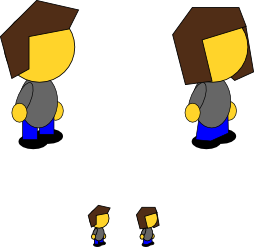 I think I'll try to animate and use them for this project. They're from this post which also has some stuff about randomly generating maps that I will try to re-use.
Hello, my name is Chris M, and this is my first LD48. I am really excited about making a game and seeing everyone else's games. Here are the places where I'll be working during the competition:
I am not sure what framework I am going to use to code the game. Either I'll use Blender3d game engine, or I'll use my immature HTML5 framework, jsGameSoup. Part of me is tempted to whip out cc65 and make a game for gameboy or atari or commodore64. I'm trying to tell that part of me to shut the hell up.
The first thing I am going to do after the theme is announced is walk to the shops and buy some eggs, mushrooms, and toast (It's morning time here in Western Australia). Then I am going to cook that stuff up and drink a massive coffee while my brain works out what to do with the theme. After that of course, I am going to start game making.
I will try to take naps today and tommorrow, because science says that naps rule. The competition finishes 10am Monday morning for me, which is fine because there is a public holiday on Monday. I'll probably try to wake up early on Monday and do the last porting/release/distribution stuff before competition end.
Have fun!