About s0ulcrusher
I'm a bit obsessed with gaming and dev'ing. I'm in the West LA area if anyone wants to jam on game prototypes!
Entries
| | | |
| --- | --- | --- |
| Ludum Dare 26 | Ludum Dare 23 | Ludum Dare 22 |
s0ulcrusher's Trophies
| | |
| --- | --- |
| It's real 3D...Award! | The Ludum Dare in the Sky with Diamonds Award |
s0ulcrusher's Archive
Minimalist was a kinda disappointing pick (was hoping for after the end of the world or dreams) but I think there's a lot open to interpretation for the theme. Was messing around with Unity's image effects and found a style that might work. Minimalism design-wise I'm thinking about a basic platformer with some pew-pew sprinkled in, like a 3D missile command.
I've been cranking on updates to my entry and am feeling pretty good about the changes shown in the video. Thanks to the great feedback on my entry page I had a much clearer direction to go in. It makes me crazy happy to build a game for LD and hear people enjoyed playing it
I had a ton of fun playing everyone's entries (well.. as many as humanly possible), there were some seriously cool ideas floating around during this compo that could turn into great indie titles. Rock on everybody, can't wait till the next one!
I was all pumped to use my custom engine for this LD but none of my concepts lined up with the feature set that I had built. So in a scramble I went with Unity and it worked out pretty well. I used the Photoshop plugin Lunar Cell to generate the planet textures, and Spacescape to generate the skybox for my entry.
Using rigid bodies for space entities worked out really well, and liberally applying ribbon trails to everything gave object movement a nice look.
There's a lot that I wanted to do with this concept but at least I nailed the bigger hit list items. I hope at least one person enjoys playing this as much as I did making it
Damn I'm tired… but I got some decent results! My entry is "Planetship" where you're a ship that was made from the wreckage of Earth trying to find a suitable planet to colonize.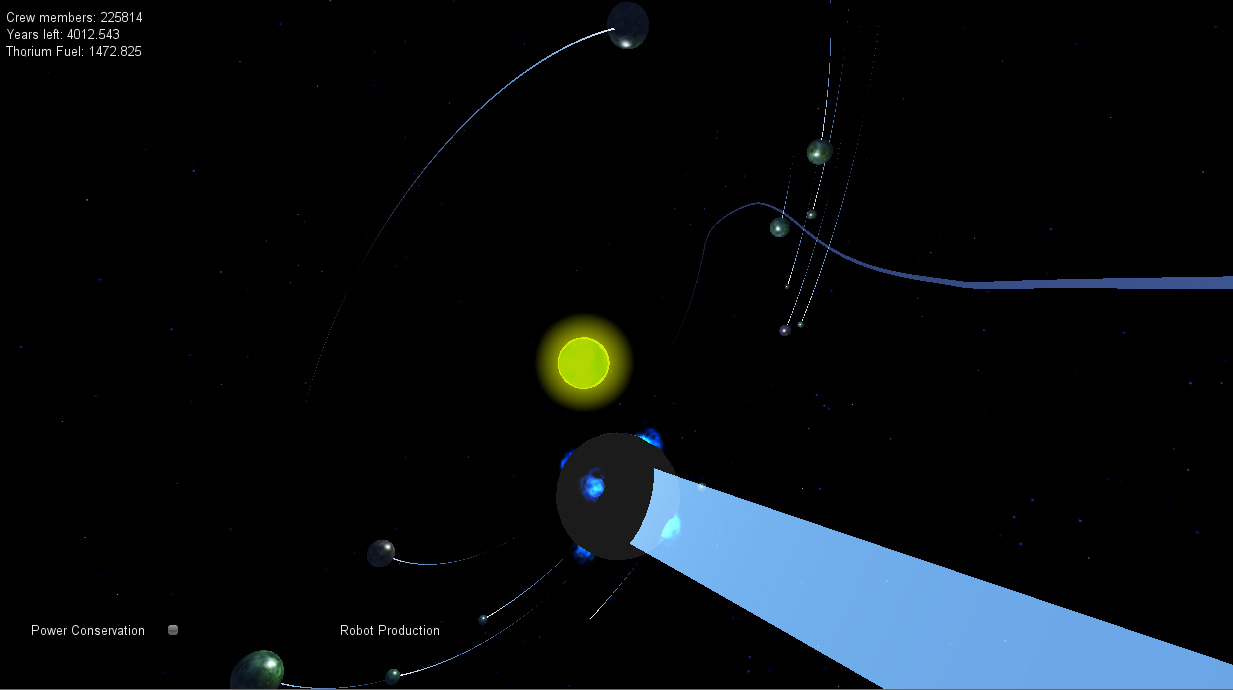 If anyone is interested in trying it out the latest build is here: http://ninjarobot.com/demos/planetShip03.zip
The music is placeholder, I'm using "It's Very Sunny" by Casino vs. Japan. WASD move / mouselook for input. The rings on the edge of the system are warp gates, they randomize everything when you pass through them. Click the planets to scan (WIP) or launch crew ship. Whew alright, back to it! Rock on everybody!
Hopefully I'll finish something this time!
Bag o' tricks:
-Python + Komodo Edit
-Ogre3d, BASS, Box2D or Bullet depending on design
-GIMP, Maya, Brekel Kinect, Reaper + some free synths
The theme better be more awesome than "Alone" this time around. Good luck and enjoy the sleep deprivation gentlepeople!!
I just found out my LD#22 submission isn't showing up in the list or is even searchable… if anyone running Win7 wants to play a half-baked demo with no win condition, here's the entry's direct URL:
AL One:
http://www.ludumdare.com/compo/ludum-dare-22/?action=preview&uid=8105
Yo bros and hos, I'm in. First LD for me so I'm pretty PUMPED UP. Depending on the theme I'll likely use Python-Ogre or Pygame, Reaper+bfxr for audio & photochop+maya for gfx. Rock on y'all, can't wait to play some sweet LD games!!!!!1!