My first LD has ended. Thanks to all of you, you're awesome. Especially you (yes, YOU). I learned a lot (thanks again).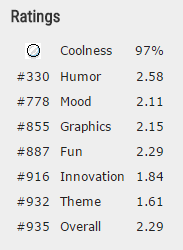 Play online.
I don't really happy with the received scores (part of me: "Everyone has a better ratings than us, let's cry
"). But I didn't expect much, because the Main Goal for me was to reach the end, to survive, etc.
Maybe next time I'll create "something better", not just "something".
But… There's two gestalts that I can't close on their own:
1. Many people didn't get the theme in my game.
2. Many people didn't get the second available attack which makes the game extremely easy.
It's OK, I understand that both of these points are unclear, that's just my mistakes. But sadly I don't know what lessons should I learn from them
. Well, I'll be glad if someone can help me.
I has add some explanations — 'How the game (may) fits the theme' and 'How to beat the game in a walk'.
You can read them if you want.