Hey guys, I've worked a lot on the game the past few days, and would like to have your opinion on the game, and I also want to know if it's working great on other computers than mine.
So, here's the MinimalShmup Alpha Version 0.1: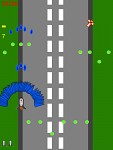 Actual features in the game:
– Power Switch System:
You have 4 powers, with common gauges that fill by shooting on enemies.
– Bomb Power: You suppress every shot on the screen for a short amount of time
– Shield Power; You have a shield that protects your ships during 2.5 seconds, preventing you from dying.
– Special Power: Your ship shoot a lot of homing bullets that kills almost everything on the screen.
– Discover Power: There are treasures in the stages, that reward a good amount of points. Will you sacrifice some of your safety so make more points ?
– Gamepad/keyboard support:
The game is currently supporting xbox 360 gamepads / arcade sticks and also keyboard.
– Xbox: RT to shoot, X to power switch, Y to use your power, Start to pause the game.
– Keyboard: Space to shoot, X to power switch, C to use your power, ESC to pause, arrows to move.
What's still in development:
– Fixing bugs.
– More enemies.
– More patterns.
– Tweaking the scoring system.
– Local leaderboard.
– Musics.
– Better graphics!
For the moment, the level 2 is still empty but the boss is working ( even if nearly impossible to beat ). Also, there is no music, because I prefer to improve the gameplay first. The menus are a bit weird too.
So, that's why I need to get the more opinions/bug reports possible, to make it the best the fast I can. I don't want to release an unstable game or that feels odd or that isn't fun.
Download it here
Don't hesistate to comment on the game! I'll respond as soon as possible.
Enjoy!