Sadly I have to take a flight and that will eat half of my remaining time at least. The progress so far, 12 hours of work done.
Only the level design is left to be done and hopefully I can submit something.
The game's main target is currently Windows Phone 7.5, but I will update it for windows so people can try it.
The short pitch:
You are trapped in the same nightmare every night and you have to walk through a totally dark maze to wake up.
Your only help are these fireflies that you can throw to understand the shape of the world and activate the next beacon which allows you to progress.
This is a touchscreen game. The closer you touch, the larger angle the particles will spread.
The rest of the controls are simple, move left, move right. You can jump. You can only warp around, if you fall down, you appear right from the top of the screen. The view is fixed until you find the next beacon (next level).
as for the progress so far:
Music: http://ircing.org/~kimo/biisi/pelimusa/clip11.mp3
Screen vie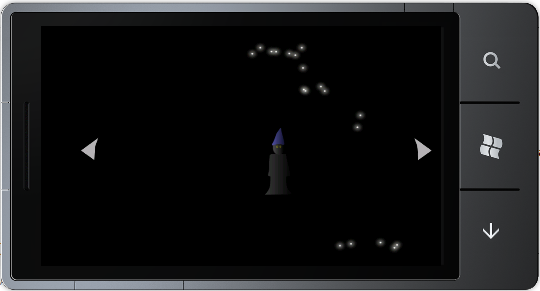 The only thing missing from the engine is to display text to explain the game/story.
The story and game instruction should work together quite well, as the narrator can explain his dream and explain how he understands it, what he can control about it.