My first LD has ended. Thanks to all of you, you're awesome. Especially you (yes, YOU). I learned a lot (thanks again).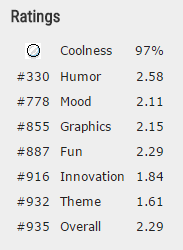 Play online.
I don't really happy with the received scores (part of me: "Everyone has a better ratings than us, let's cry
"). But I didn't expect much, because the Main Goal for me was to reach the end, to survive, etc.
Maybe next time I'll create "something better", not just "something".
But… There's two gestalts that I can't close on their own:
1. Many people didn't get the theme in my game.
2. Many people didn't get the second available attack which makes the game extremely easy.
It's OK, I understand that both of these points are unclear, that's just my mistakes. But sadly I don't know what lessons should I learn from them
. Well, I'll be glad if someone can help me.
I has add some explanations — 'How the game (may) fits the theme' and 'How to beat the game in a walk'.
You can read them if you want.
1. How the game (may) fits the theme.
Almost everything in this game shapeshifts [yay!]
Your character shapeshifts — when you kill a novice that isn't become a monster yet.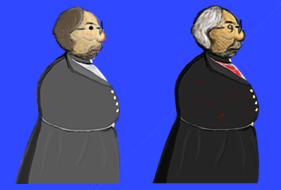 Your weapon shapeshifts — again because of unnecessary kill.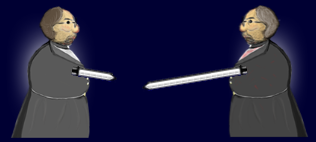 Enemies shapeshift too — from cursed frightened novices (that can not attack you) to jumping fireballing monsters.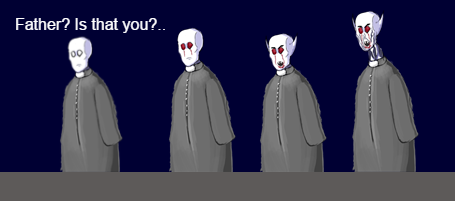 Every enemy in the game becomes stronger during these metamorphoses. You should kill them ASAP, or entire level will be full of strongest monsters.
2. How to beat the game in a walk, or The Mystery Of Second Attack.
The game contains two type of attacks (and just one key to attack — SPACE).
The first attack is attack by the knife. At the start of the [single] level your weapon is very small and almost useless, but if you rapidly kill 2-3 non-monster novices the knife will be increased.
With such a big anime sword you can beat the game (after 1-2 game-overs, ugh, but — YOU CAN). Congratulations! You WON! But you received… Bad Ending.
It's because this attack is just a cake… I mean, it's a lie! As you can read from the 'intro' your character received this knife from the strange looking, em, stranger, who asks you to go to the basement and restart the server.
He's probably Devil himself (or one of his servants), so don't listen the words that he is saying. Killing is not a good thing to do (especially when you're priest), you probably knew it.
Instead — use the second attack. Here's the guide (finally):
— You can attack only monsters, not cursed novices. So wait 10 seconds untill all novices shapeshift.
— The enemy shouldn't be near you (or the first attack will be executed).
— Stay in opposite direction to the enemy you want to attack. You can move and jump, but the enemy should stay behind the Father's back.
— Press SPACE (progress bar will appear with 'See no evil' caption).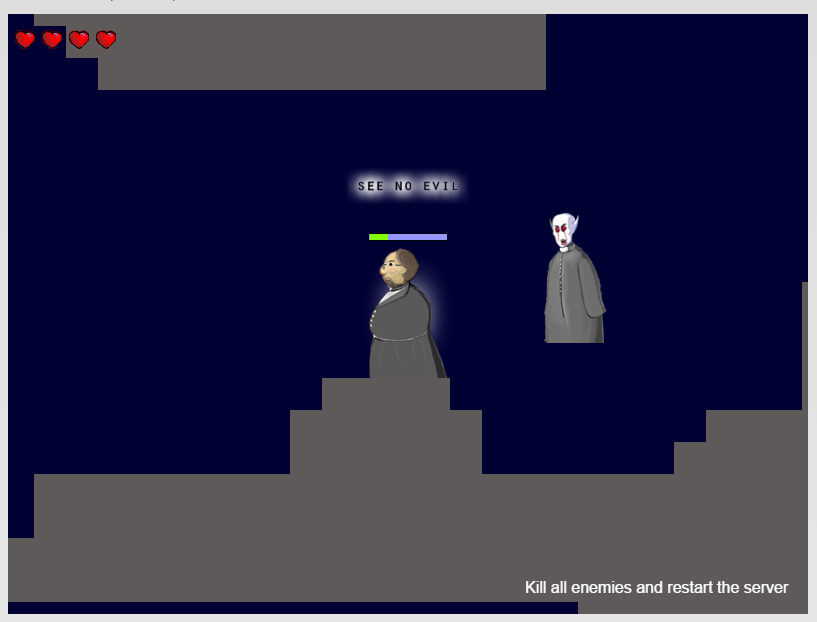 — Press SPACE again, and again, and again. Don't stop and tap rapidly.
— Enemy will be dead as progress bar is full.
Hope after that guide someone except my friends will finish the game with Good Ending

That's all for now. Good luck and see you in August.
Tags: LD35, post-compo, ratings