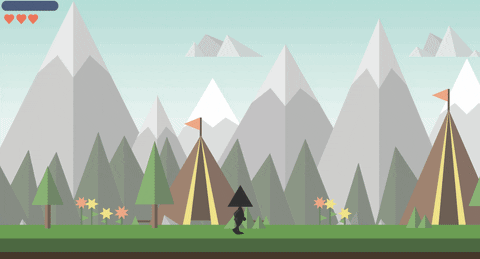 GeoShift is a 2D platformer basically. But there is a shift
To the rhythm of the background music, the world performs shapeshifts. And there is more. You can control the speed of the music to change the rhythm of the world to solve platformer puzzles.
### The PostMortem ###
Well here we are… and I dont know where to start.
It was our first Ludum Dare as a team and for two of us the first game jam ever. I participated only in MiniLD#65 so far. So we are quite unexpierenced when it comes to planing and working as a team, which can defently be seen in our game. So let me start with the bad things.
What went wrong:
I can only speak for myself but i ate and drank way to less. I was so focused in programming and trying hard to get things done that i completely forgot to eat and drink, i remember that moment when i realized that 8 hours just passed by with me not leaving the chair a single time. This is the reason i had to stop Sunday afternoon because i was so tired, hungry and thristy that i couldnt concentrate for more then 5 minutes anymore.

Defently going to set a timer on my cell phone about 2-3 hours intervall to take small breaks in the next Ludum Dare J
A big loss for us was the fact that everyone had to work on Monday, even though we entered the jam, because we are a team, we only could use about 48 hours instead of 72
The level design:

We kept the level design as one of the last tasks and that was a bad idea, especially for a platformer game
The difficulty was a bit to hard I guess, I did most of  the puzzles and I think the reason why its so hard, is the fact i tested this game so much that i got really good at it and solved every puzzle with ease. I personally think a platformer should be hard to play but in the focus of a game jam where people need to test and rate this game, its been a bad idea to make it that hard, that many people didnt finnished it and maybe rated our game with a pinch of salt left  😛

The mechanics:

We tried to give the player control over the pulsing effect, which didnt worked out that well. While the slowdown effect needs to be used to solve some of the puzzles the speedup hasnt any use despite from lower the waiting time to adjust the pulsing cycle. But none of that felt right and we didnt really came up with a better usage of these features
What went right:
The communication:

From the brainstorm to the finished product our communication was always perfect. At least in my opinion. There was no time where somebody didnt know what to do next or how a detail is going to work out in  the final product.
We had that very clear vision of this game and couldnt wait to see how everything combined is gonna work out

The learning factor:

You learn to make games by making games. Thats how it is. And i learned a ton of new stuff this time.
One of our programmers hasnt made a single game before and isnt a professional programmer neither is he working in informatics, its just his hobby. And i guess he even learned more
Our artist did such a great job adapting these simple shapes to three amazing background themes

The fun factor:

Even though it was a pain. And yes it was a pain. I was busted and ruined and whacked and broken-down after this marathon BUT I WOULD DO IT AGAIN. And I guess thats what Ludum Dare is about. At least for me. Its about the fun and joy and the passion and love to make games
Thats it from me ladys and gentlenerds. Have a good time and good luck during the voting
See you next Ludum Dare