Previous Update: Dapper Penguin Studio – Day #1
Welcome to another update from the team at Dapper Penguin Studio.
Before we get started on what we've achieved over the last 24 hours, I'd like to remind you, that I am constantly tweeting about our development, the challenges we face, and also answering questions and offering advice via my own personal Twitter Account. Got a question I'm not quite sure of? Don't worry, I'll put it to the team here, and they'll draw on their combined experience of over 35 years of Game Development knowledge, from Indie to AAA development, to give you the best advice we can!
Now, with that all out of the way, let's get down to business. (To defeat, the Huns!)

---
Our Concept, Expanded & Improved
Since our last update we've managed to refine, and better come to terms with what exactly we've been wanting to develop. Building on our last announcement, here is what we're creating;
Mimic The Game
Take on the role of the harmless, loveable and friendly mythical creature; The Mimic.
For years you've been gathering precious gems, valuable heirlooms and quite a substantial amount of gold, all to make sure your sweet dungeon home is as comfortable and luxurious as possible, but sadly now, these nasty so called "Heroes" have come to take away all that you've earned, to rob you of your livelihood, and they have the audacity to call you a monster?
As waves of Heroes pile into your dungeon home, you're forced to apply all of the shape shifting knowledge and skills you have as a Mimic to defeat these troublemakers and claim victory over them. Take on the form of many of the objects you've collected over the years, and be ready to ambush these thieves, and show them the true meaning of the word; Monster.
But be careful, for there are many Heroes, and you have a lot of loot, so much in fact you're not even entirely sure what goes where any more! You can't afford to just lie in wait, you must act, scout out your own home, find where the Heroes are headed, cut them off and prepare to launch your deadly attacks when they least suspect it. But be careful! For these "Heroes" are well armed, and know that some threat lies within these halls. You must be sneaky, remain calm and be tactical, because what good is all this loot to you, if you're dead?
---
Our Concept Art
Our Artist has been hard at work to create a plethora of amazing art works for our Mimic game, and we're more than proud to showcase her amazing skills. Here are a few samples of her work so far.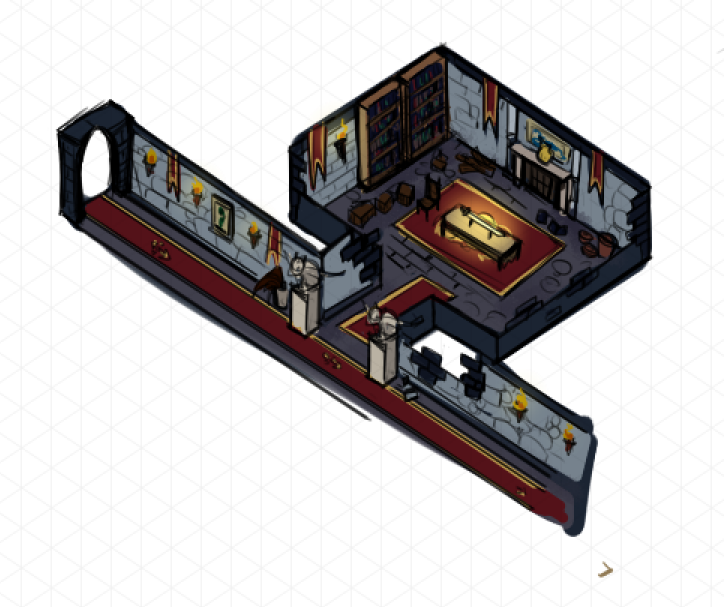 ---
Game Creation
What would all that lovely art be worth, if we didn't start to employ the design, the colours and the concept into our very own game?
Our 3D Modeller has been hard at work, as well as our Level Designer as well to help create the game world you'll be fighting to defend. While still a work in progress, it shows great promise for being on 1/3 of the way through the Game Jam!
The lighting and atmosphere is something we're going to do a full sweep of once we get to the game population phase of development. For now though, the game comes across slightly darker than it will in the final version, as much of the rich and vibrant colours will come from assets within the game, and objects that you as the mimic can interact with! It's also important to note that this will be an isometric top-down view (Which we've already sorted out), but we wanted to show you a literal inside look at the game so far!
---
The Code Monkeys
We've shown you so much, but the last thing we want to show you is the reams and reams of code we've created over the last 24 hours, so to save you the hassle, we're going to list the systems that we've developed, implemented and are now preparing for testing.
Artificial Stupidity v1.0 (Formally known as Artificial Intelligence), which encompasses;

Full A.I. path finding
A.I. Player detection through "Sound" & "Sight"
A.I. personalities & traits
A.I. Memory Sense to remember specific information about their encounters with you.
and much more!

Player Controls
Game Score
Game States & Events
Player Shape Shifting
Shaders & Texture Management
and so much more!
---
It's been an incredibly exciting 24 hours, and we're looking forward to letting you see more of our game, and to get it in your hands for testing. If you'd like to know more about the game we're making, as I mentioned previously, feel free to send me a Tweet, and I'll get back to you.
Best of luck in your game development, and we look forward to seeing and hearing more about your game!
Tags: 24 Hours, dungeon, game jam, isometric, Team Development