What time is it? It's postmortem time!
Last LD I set myself the goal of focusing on more complex mechanics and level design, that might wait for LD35 :'D
= What went right =
Audio: Really proud of how the audio fit the style of the game. Again, credit goes to the great Ted Wennerström.
Programming: Programming went rather smoothly, I'm pretty happy of the way the game is built, it allowed a lot of changes in the same canvas.
Style: Regarding the style of the game, we stuck to the original idea and players seemed to like it (pairs with Audio)
Juiciness: The constant screen wobble was an experiment, but the feedbacks were pretty easy to make and pretty efficient
= What went (entirely or slightly) wrong =
Balance and Design: Oh did I screw up that part. A majority of players made me notice how the game should be more penalizing. I first thought of letting mistakes pass in case people were not good at this kind of game and the Accuracy rating was just a treaky way to reward the accurate player, but it runed out pretty bad. Secondly, the game was way too fast since the beginning but while playtesting got me used to the speed and I realised too late that indeed it was way too difficult.
Ideas: We knew in the very beginning what the style of the game would be but had no idea on the precise mechanics so we groped until we stuck to the arrow mechanics.
Theme: The tied themes were pretty confusing at first, moreover we started the design around Growing but ended up using the Two Button Controls because I couldn't get the Growing mechanics to be fun to play.
The final ratings: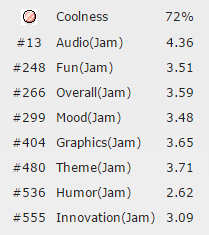 Kicking it with the Audio score. Did better with Theme than I thought. Fun and Mood were the main focus I guess, and I'm actually a little surprised about the Fun score considering the huge penalty flaw of the game.
Thanks everyone for playing Dizzy Dazzle, cheers!
Tselmek out!
Tags: jam, ld34, postmortem