Hello! Justin here, bringing a post-mortem nobody asked for. But it's probably good practice to do so anyway. Garden Grow is one of the games I'm proudest of that was made in a game jam. Admittedly, not my best, but it was a step forward from the LAST Ludum Dare. Fun, accessible, complete! Let's see if I can keep this breakdown short and sweet.
The Highs
– The music. Never had I imagined that I would be able to compose something that people would actually comment on as being a strong point! Most times, I composed simple melodies using 'shortcuts' of sorts; playing only with black keys was one of them. This time, though, I took a few hours out of my time to study different chiptunes by different artists and try to emulate certain aspects of it that I never thought of trying before. The end result was a melody that paved the way to what the mood of my game was going to be. A shoutout to Jason Reed (@jcreed on Twitter) for his songs that inspired me.
– Time. On Ludum Dare 33, I had to scrap 48 hours worth of work and ideas, and made a game from scratch in the remaining 24 hour jam period. While the end result was rather pleasant, it hurt my pride to know that I botched up, that I failed to hit that deadline. I made it a vow to make up for it on this one, and I managed to get it done with plenty of sleep to spare for work on Monday!
– Polish. Since I managed to finish early, I took the time to add what I would call 'LOVE' into the game. The little details that give a tiny bit more fun factor, but may take more effort than it's worth. Things like particle effects, obscure conditions and secrets, anticipating player behaviour, etc. Pizzazz, magic, chrome. Granted, more could've be done, but this is one of the more 'livelier' games I have made. Baby steps. I think I'll stick to this trend a little more!
The Lows
– Art. There were some comments on how the artstyles didn't really jive together, and I was painfully aware of that. But time wasn't on my side this time, and making a detailed 32×32 sprite with full animations was out of the question. I defaulted to my old style of making 16×16 sprites and increasing their size, instead. The end result is the slight dissonance of the other objects in the game and the characters.
– Engine limitations. I'm no programmer, so I rely a lot on visual coding. By extension, that means I'm at the mercy of the engine's whims. Simple mechanics that sound easy to implement on paper become huge hassles when you have to jump through the hoops set by the engine so you can make them a reality. A few features had to be cut because of some time lost from figuring out the engine, but I may add them in on a later date.
– Balancing. In my haste to finish the game, I did lose sight of a few core principles in design that I shouldn't have. The powerups were added on a 'difficulty-of-implementation' basis. If it was easy to put in, I'll chuck it in without second thought to pad out some gameplay. Even though they were nice and welcome additions, they didn't contribute much to the overall experience curve of the game. There are some things I wish I could've done better, like actually having the difficulty ramp up slowly somehow, since the game's difficulty stays stagnant for quite some time.
Conclusion
This Ludum Dare, I decided to bump my coolness up and play as many games that I got my grubby hands on. And boy, was that a fun experience. I learned a lot from playing different games, comparing them with mine and seeing where I could improve. And, as always, I found many games that humbled me as a developer. Such polish, such finesse, such wonderful design that I can only hope to emulate in the future… I still have much to learn, and perhaps one day, I'll sit amongst the greats with a game I can be truly proud of.
But for now, I'd like to thank all the people who've played my game so far. Those that have given me reassuring words, and those that have criticized me for me to learn and better myself. The response has been overwhelming (more than I would dream to get, anyway), and perhaps I may continue with this project and see it to the end. Add more features, spruce up the sound and graphics, maybe even port it over to mobile.
Thank you for taking the time to read this, if you did. It's time to go back to rating all these awesome games, and also return back to working life. Here's a little sneak peek of Garden Grow's death scene, just to break the monotony of this huge wall of text.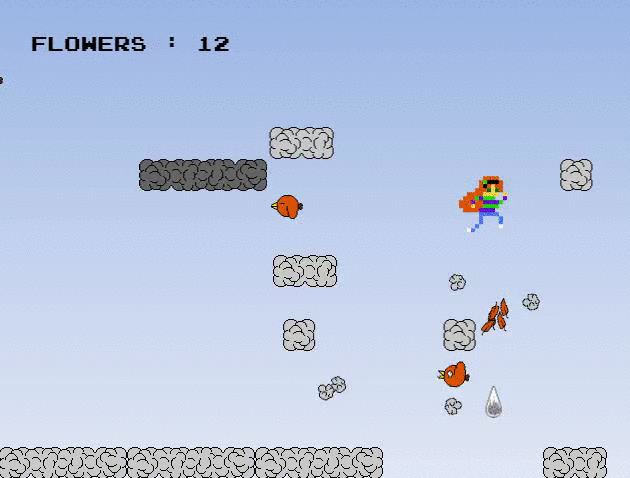 Also, play Garden Grow here! If I have the time, I'll definitely try to play yours, too!