Leading up to the last couple of Ludum Dares I'd tried to convince my friends John and
Daniel
 to participate in the jam as a team. They work on games together in their free time, but they kept saying they didn't feel ready for something like this.  I wanted to show them that they were. I'd pawed at 
game
development
for
years
 – without finishing anything – before my first game jam. I learned so much from actually finishing something!
So this time: "YOU GUUUUYS. Let's do a Ludum Dare jam. 72 hours starting at 6:30 at my place…" And we did it!
---
Day 0
Our setup issues were akin to setting up a LAN party for some reason. Oh well. Daniel and I bounced ideas off each other while John was gettin' his wifi on. By the time John came back we had a page full of different ideas, but he just looked at us incredulously because our first idea was "SWARM (kittens controlled by laser pointer?)", and we'd bothered having other ideas.
Good point. Although I'm still curious about "Rocket launcher that explodes into puppies & rainbows?"
We got our code repo going, made an art test level with a box scooting around next to a hole, got super excited about
Daniel's excellent concept art
, and called it a night.
---
Day 1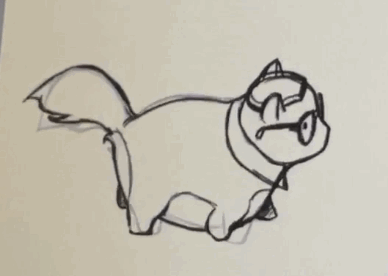 I'm not sure Daniel's had much experience with animation work, but he proved to be a total boss at it.
We'd gotten ourselves to the cusp of a ton of progress the night before, and that morning we got sprite rendering and laser pointer mob control working.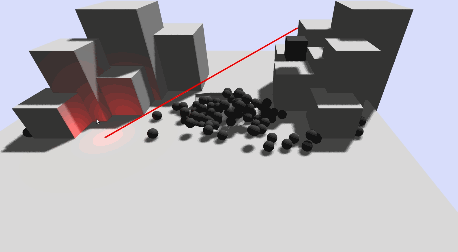 It was super motivating! Naturally, things slowed down a lot as we started considering our next steps, both technically and design-wise. It's really easy to get caught up in this sort of thing when working by yourself. With a group, it's even more dangerous. We mostly shook it off by just jumping into the next "make Hugo prettier" task. Animating Hugo, getting shadows to work with sprites, making the laser track the pointer strapped to his head, etc.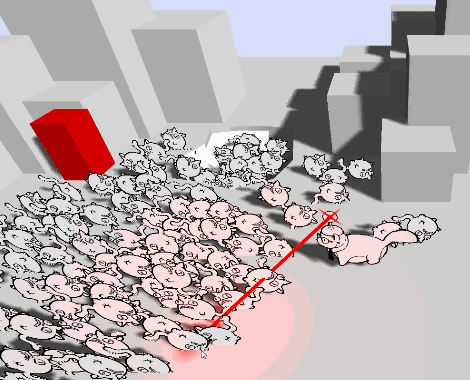 Also we ran the mob of cats off the edge. A lot.
---
Day 2
For me this was, mostly, my last day of work on the jam. This was the part I was excited to introduce others to. The "oh shit let's make a game out of this go go go!" part.
We started the day in a tough place, though. No weapons, no puzzles, no nothin'. We ran in circles for a bit trying to design everything. Then we prioritized the bare minimums for actually being able to create a level: physics props to play with and make the levels prettier, exits, buttons for puzzley stuff, and enemies.
By 9pm we had the first level done, and then the other two levels were done within another five hours. That's all the levels.
We made it so that the main character could take damage/die (whilst yowling in protest), added music, and suddenly things felt like an actual game.
---
Day 3
The last day! Enemies got their sprites, animations and deaths, title/closing screens were added, and, most importantly, we added 18 cat sounds that Daniel recorded himself making.
The technical requirements of supporting 2D art are certainly higher than what I'm used to. Adding all of those animations took much of the day.
By the time I'd returned to our dev house, we had to sadly acknowledge that any more art Daniel was drawing was just not something we had time to get into the game. He then set about knocking things against each other to make what will go down in history as the best "robot bad guy blowing up" sound known to humanity.
Then: playtesting, packaging up the game, debating our favorite screenshots, going back and repackaging the game real quick so we could include an improved readme, and sitting there with rattled nerves for a bit after submitting the game.
Celebrating: Irish car bombs, Cornish pasties, beers, watching John having a second car bomb by himself and being oh so proud, dessert, packing up, and splitting up for some much deserved sleep.
---
Today
So did it work? Did Ludum Dare turn us into a radballs crack team of super fast game devs?
Daniel: "I think I learned a lot on this project about that skill of decision-making, partly because it's so gratifying to be able to repeatedly come up with ideas and then bring them to life. I'm much more motivated to try to find a pace of creation as fast and (mostly) consistent as the one we had."
Yaaaay! That's why I love Ludum Dare. Thanks to my friends, and the thousands of other inspiring jammers this Ludum Dare, for doing this.