In my last "I'm in" post I mentioned putting together a collection of some common functions that I've used in previous LD games…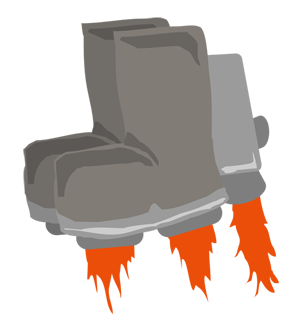 Well I've done it and named it "RocketBoots". If you'd like to check out the Github repo, feel free to use the code or contribute. It's all open-source, freely licensed — and a complete mess at this point.
I figure this will either help out my LD-31 game by giving me some useful generic functions for menus, sound, canvas, and 2d coords… OR will completely distract me, causing me to write efficient, reusable RocketBoots components rather than concentrate on the game itself. But at least this time I have some base-code to work with and I'm not start with a completely empty page.
Onward, upward! Good luck everyone! I hope you voted smartly. 😉