Nathan here. After a night of throwing ideas around and getting solid concepts to paper, we can start proper content creation – after I take a nap. And we still don't really have a proper game title. Hm.
So, the game flow:
You play as Akachi Fortman, a member of the Peacekeeper Corps on a space station where all the inhabitants have split off into separate communities, connected by a network of transport pipes. A mixture of space debris and human engineering has gone into creating these cliquey little planetoids, so they're called Planet-Cities.
There are four major Planet-Cities:
Candy Harajuku City
The Tundra Punk Metropolis
The City-State of Volcanic Dandies
Jungle of the Cowboy-Metalheads
Planet-Cities are domed ecosystems sitting on a planetoid. Like Candy Harajuku City:
(Of course the planetoid is made of ice cream why wouldn't it be?)
More info below the cut.
Each has a City Council representative who you talk to in order to solve the Planet-City's problems (ultimately involving choosing the right dialogue options and a little fetch-questing. You've already seen the representative for the Tundra Punks, but here are the demo graphics for the Cowboy-Metalheads and Dandies: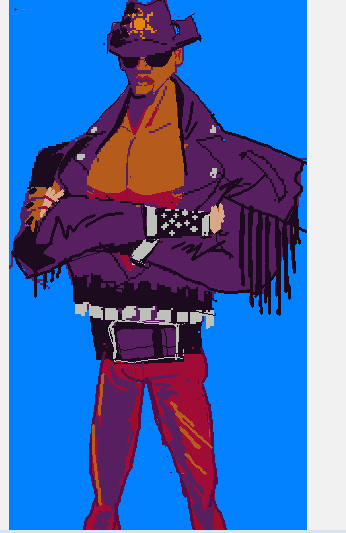 Our cast is definitely going to be diverse.
I also finished the game's branching structure in Twine:
I do like how the branches end up resembling the Space Station's layout. There's going to be a handful of branching in the conversation you have in each Planet-City, but it's all within my skillset. Hopefully. Next step is actually jumping into Ren'Py proper and getting some coding and scriptwriting under way. Watch this space!