I'm in.
So, last time I won the innovation categoryyyy! I love you all for that. I woke up that day and had to click through a few pages to make sure that I was definitely seeing what I was seeing.
If you don't know me, I'm the Rude Bear guy. Every Ludum Dare I make a Rude Bear game, since Ludum Dare 25.
And this is why. My first game (Rude Bear) was.. pretty terrible, but it was stylistically rather nice, so people enjoyed it, and I decided to run with it and keep making Rude Bear games. It recently got put in the Pirate Bay Bundle, so that's cool.
Then there was the one we still don't talk about.
And next came the first one that actually did well:
After RBR, I made a post saying that I was super scared that I had to make an even better game this time. So I did!
Rude Bear Resurrection is the heartwarming tale of a group of gamers who repeatedly died over and over again and then walked on each other's corpses in a mad flurry to beat the endboss and become the new endboss. It's all networked and you can use each other's corpses as paperweights, carpets, boats etc.
Outside of Ludum Dare I then did a couple of other things. With the RBR engine I made Claire's Voyage for Global Game Jam 14: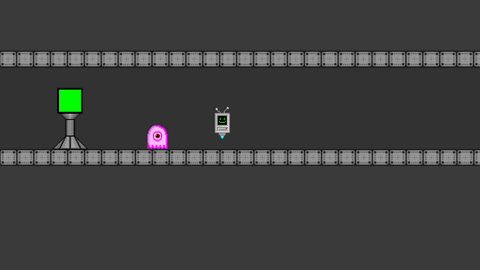 Then I made the fifth Rude Bear game, Rude Bear X for Flappy Jam (but never really told anyone about it).
Which was like.. an endless runner inspired by Megaman 2 where you could move around the screen, surf on enemies, use 5 different bear types and weapon types and fight various bosses in different worlds.
Then I made Midas with 3 strangers at EGX Rezzed Creative Assembly Game Jam in 8 hours. Which was fun. (I also made another game called Cooperative Spider Train Island Glitch [Working Title] but that isn't really worth discussing).
But yeah, point is.
IT'S TIME FOR RUDE BEAR 6 MO'FO.
Normally I would be like, "AND IT'S GOING TO BE THE BEST RUDE BEAR EVER", but.. really, like. It's going to be difficult to beat a gold medal. I can try though, right?
If Atmospherium gets back to me, I may well be using his magical tools for ingame music. I'll be using Unity2D again. And I.. may do something with realtime online functionality? But I've never done that before so I dunno. Obviously it depends on the theme too. If "You Are The World" or "You Are Your Own Enemy" wins I'm very unlikely to do something onliney.