A journey through my obsession with space.
If you prefer to play the Jameson first – click here.
It all started in 1993 – where I was 6 and playing Elite II: Frontier on Amiga 500
Obviously obsessed with ships and planets ever since.
I will just highlight some of my prototypes and games that are related to this project – my answer for – "how did you managed to write a spacesim in 48h".
Arcade space strategy – prototype
Heavy inspired by Galcon and Space Federation (Star Reach):


Multiplayer space top-down RTS
Like – Homeworld in 2d – I don't even remember why I killed that one – was very ahead any html5 game at the time. This is actually my "hello world" in node.js – I was earlier pioneering by binding V8 CGI with apache and PHP – how horrible is that?
Space?
The only thing you could do here is dragging the swarms between planets – use SPACE to zoomout.
Sprites by @artperski, planets by me and GIMP.
Century Sky Fighters
This game is a disaster piece in code and gamedesign. I was responsible for coding and music. From that one comes the bullet mechanics (also this) I am using. I've learned a lot from failures of mine and the rest of team.
ZomZok – realtime multiplayer shmup
Proud of this one as it served tons of bullets in realtime. Scale killed me – I totally did not know what should I do with this project. Many mechanics used in Jameson comes from it – planet collisions avoiding, more natural AI and arc based navigation computer.
This also featured very cool ships generator.
Art by @artperski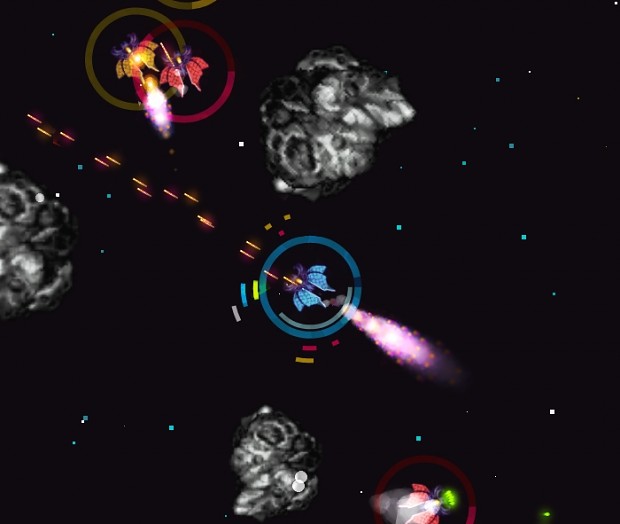 2013
Street Cats
What the hell? This is my first project using CanvasQuery (canvas wrapper I have created for easier image manipulation) – also thanks to Richard Davey (aka @photonstorm) for hiring me at the time – I have lost job, girlfriend and a flat all at once. We all watched "Indie game: The movie" – there always must be some drama behind
Zod Zwei
Concept for a multiplayer mix of Herzog and Zed games. Thanks god I didn't even started to work on it but this is where my art style has been born.
Under influence of Hoppertje and his (dead) Dune2 and TransportTycoon multiplayer mix.
I have also discovered aseprite and stolen its convoltion martrix to create some automatic texturing thing named after one of my favorite pixel artists.
Squad – prototype
The very architecture I use comes from this one. Also this is a direct core of QbQbQb (see next).
QbQbQb – the most important game for me
Hey there – it is me – Ludum Daring for the first time. Finishing first own commercial game. Understanding that scale was my problem. Discovering that people like my music. Falling in love with Ludum Dare.
Potato Lagoon
Hey there – it is me – Ludum Daring for the second time. Learning how to generate endless gameplay.
Super Roto Shooter
QbQbQb in combat mode. This is w.i.p screenshot:
Sprites by @artperski, planet by Pablo Maskovy.
Hotline Trail
It is me – 0hgame jamming. Learning to keep things at the minimum. Jameson started as CTRL+C/CTRL+V of this project.
Title screen by Charlie.
Chirp – online composer
It is a big part of my experience. Not directly related but should be there.
Jameson – The Pilot
It is me – Ludum Daring for the third time. Making space sandbox that have a bit of code from all above games.
My name is Rezoner.
And I want to be a gamedeveloper singer.