I've seen another Ludum Darer's entry for this Mini Ludum Dare, "A bad day on the toilet" by Thurig, which is basically a defecation simulator. Although it's a little weird, I think it perfectly fits the not-game theme, and I wish good luck to the creator!
(Ever since I'm a Drawn Together fan, there is little crudeness that can surprise me.)
Since I'm in a story-telling mood, I tell what this entry has reminded me. In my country, there was a video series, "Rossz PC játékok" ("Bad PC games") which criticized commercially released games which were really bad. (Pretty much like the Angry Video Game Nerd.) At the end of the episode which introduced the game, "Scooter Pro", the video's creator, freddyD, has told a few thoughts about how pointless he finds that there is a simulator for such pointless sports like riding a scooter. Then he listed some ideas for similarly pointless games, and one memorable example was the "Hardcore Nose Picking" simulator. 😀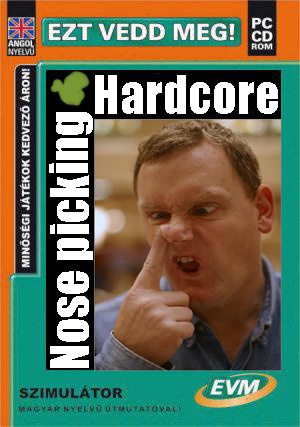 I was actually playing with the thought of creating an actual game based on the idea, in which you could sell the snot you mined to the creators of "Big Rigs: Over the Road Racing", which they would use to make the wheels of those trucks so sticky. 😀 (If you don't get it, in that game, the trucks can park perfectly on vertical surfaces.) I could have used this idea for this Mini Ludum Dare, damn!
Nah, get back to work! I made some progress with my entry, but I seriously doubt I can make anything playable for the end of the day. Especially because I need to get to sleep early, for tomorrow I'll be in morning shift (yuck!).