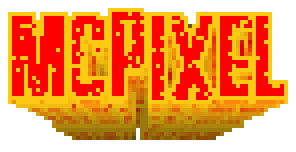 www.McPixel.net
---
Most of you know, but some of you don't. Anyways,
McPixel
was created for
Ludum Dare 21
in
48 hours
. It had
6 levels
and a
very special ending
.
You can still play that version
, and you can read how it became a fully featured crazy game!
---
Exactly one year ago, I quit my dayjob and went indie. Ok, perhaps it wasn't as simple as that as I was looking for other jobs and creating a game in the mean time. This game was Thelemite and by now it has got over one million plays worldwide. But before I could manage to finish it, A WILD LUDUM DARE APPEARED!
That's right! Right when I was running out of cash and had to finish my game ASAP, Ludum Dare 21 was taking place. And since I am a terrible compo addict, I could not let that pass, so naturally, I joined in! As I always do
---
As every other time, everyone was super excited to hear what the theme is.
10, 9, 8, 7, 6, 5, 4, 3, 2, 1…
and the theme is…
503 Service Temporarily Unavailable!
Ludum Dare
servers were literally crawling under the amount of visitors that time, but thanks to almighty
Phil Hassey
's mad web coding skills and
Mike Kasprzak
's ability to tame hoards of panicked developers,
Ludum Dare 21
was a huge success, one that the compo had not seen before.
And it was a success for me too! I managed to create a tiny little pseudo point'n'click adventure called McPixel! I was trying to create a failproof idea, so I thought about a series of short point'n'click puzzles based on an even simpler engine that I can create within first 24 hours and spend the entire second half on creating more levels for it. I took out my favourite gel pen and started doodling my idea.
---
And I started working. As planned, I managed to create a working engine within first 24 hours, and went to sleep happy!
The first level I made was totally insane, because I was actually a bit late with my 24h mark, and I was up for too long and my brain experienced a shutdown so I just drawn animations mindlessly without having any idea what I am doing. The engine I created allowed my to create levels for it involving no coding, entirely in graphics editor, reducing chances to screw stuff up.
After I was done with my almost 20 hour stretch of first-day LD work, I took a juicy 4h nap and woke up with dysfunctional brain cells only to produce more mad levels.
I am really proud of careful planning I did that time and my simple engine allowed me to succeed in creating a whole of six levels in the end and a special ending.
---
Here are the original McPixel levels:

Play the original version here
---
After the compo, I quickly got back to finishing Thelemite and waited restlessly for the results. And
the results were really great
!
So I decided to make McPixel into a full game and set myself a goal of 100 levels!
After Ludum Dare McPixel, along other games got some press coverage that kept me motivated to work on it more. Here is a list of McPixel related links I managed to assemble after Ludum Dare 21.
RPS comment, Oujevipo.fr, Dallas Observer, Indiegames.com, Seetio.com, Youtube LD21 video, Dogbomb's LD21 mashup, Dealspwn.com, Indievault.it, Pixellevel.de, Retrozentrale.net, Simply-Indie.de, Superlevel.de, Chocogames, Oldpost.com (?), Ripten.com, Nerd-Age.com, Gamezone.de, Indie-Game.fr
I was crunching and creating more levels for McPixel having to occasionally release a side game in the mean time just to help me survive. The engine I created during Ludum Dare is 90% intact up to this day and I am very much proud of it. If you would like to delve into details as to how McPixel levels are made, check out McPixel Creator's Guide.
---
Now,
McPixel
is released. It is a full game with all of the 100 levels I wanted to make. I am really happy about releasing it and watching people have fun and go 'wtf!' when playing it is priceless. I am not writing this so that you can admire my ego or envy me. I want to motivate you! Making games is fun! And making games with friends is even more fun! And finally, making game swith friends in 48 hours is the best fun you can find in game making community. This is what
Ludum Dare
is. It is fun and friends and oppoturnities! Once you join it, you will never regret it.