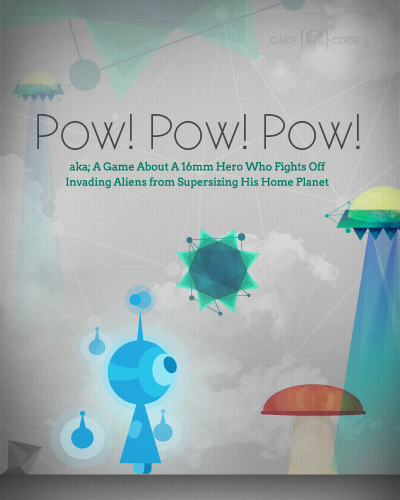 Hey all, it's time for our post-mortem for our game Pow! Pow! Pow!. Since we're just a simple two-person team, we'll divide the info of our post accordingly.
As a graphic designer, my biggest obstacle was to properly illustrate everything and make it look nice. (Remember friends, graphic designers may not = graphic artists!) I knew if I was to paint/draw something, it'd take way too long. So I played up my strengths and went with something that was easily executable but still very eye-catching.
The game's UI was also a big focus for me. I'm aspiring to move into interface and interaction design, so I tried to focus on that as much as I could.
What Went Right
Art Direction: I've never tried anything like this before, and I'm really glad it came out the way it did. I took a lot of inspiration from older sci-fi movies and The Twilight Zone.
Music: I used Otomata to create the sort of light doot-doot sounds. I got to play with the tool a little bit beforehand, but this was the first time I really enjoyed what came out of it. It seemed to fit the game pretty well.
Design: I had a lot fun choosing the right typeface and making the buttons, and I think it looks pretty nice! Typographic pairings are hard to completely master.
Networking: As Zeik was the more burdened half of the team, I really enjoyed getting to spend the time networking, making posts, and meeting everyone.
What Went Wrong
Level Design: Ok, I admit I designed the level for my painfully difficult game. My biggest concern was that the game would be too easy. Unfortunately, in my excitement I ended up making the game too difficult for most people. (As demonstrated by most comments in the game page.)
Sound Effects: I tried using bfxr, and it went terribly wrong. As you guys can tell, there's only one sound effect, and that's just a fluke that it randomized to a nice sound. I have no sense for sound at all.
Health, ugh: We ate horribly the entire weekend, and slept like crap too. Our first two days were based off of pizza, leftover pizza, hot wings, and apple pie. Sounds delicious, but after sitting and working for a few hours straight…it's disgusting. We also slept about an hour before going to work on the last day of the jam, which wrecked havoc on our bodies and minds. SLEEP MORE. EAT BETTER.
Zeik
For our first LD I think a lot of things went really right, but of course some things went wrong as well.
What went right
FlashPunk: thanks Warmup Weekend for opening my eyes about the time constraints and getting me to adopt a backend
FlashDevelop: I love NP++ but it would have been a mistake since it lacks the power of a dedicated IDE
OOP and Inheritance: saved me a bunch of batch modifications and probably some find-replaces
XML levels: made it easier to hand off level design to Cake 😀
What went wrong
Builds: I was working too intensely on the code to release as many builds as we should, there's nothing that compares to third-party feedback
Collisions: despite all seeming to work right at the start, once a rudimentary stage was built it was obvious collisions needed tweaking and this cost me more time than I care to admit
Time: as expected, the time constraint was quite draining and it made me stress out more and more, in the end worrying about running out of time probably did more harm than good
That's about it really. LD was an amazing experience and I think we'll totally take the constructive comments given and improve the game. We'll also be more ready for the next LD. Gonna go vote for some more games now.
Game Improvements?
A lot of people generally complained that the game was too hard and some of the mechanics seemed more like a chore and was unpredictable. (We can almost guarantee you, the unpredictability is not unintentional! Sadly most of our choices were with intent to be that way…) As this is our first complete game, we really want to make this as solid as possible for a post-LD version. So here are our planned improvements..
Better collision: Our art isn't pixel art, so we admit our collision hit boxes aren't pixel perfect (Har)
Sound FX: Cake was in charge of SFX with bfxr, but everything came out obnoxious. Maybe we should just record our own via laptop mic.
Tutorial Stage: People didn't understand the complete mechanic of the shrinking and growing trees. (Hint: You're supposed to stand on the edge to be propelled in that direction. Just saying.) We're planning on having a tutorial stage so that people learn it, rather than be surprised by it.
Enemy Difficulty: Boss-Boss (the boss monster) is laughably weak, and Shake-Bell (the cube monster) was depressingly hard. Something's not right here.
Speed It Up!: Growing and shrinking took too long. We need to speed it up.
Animation: Cake got spritesheets ready for a lot of animations in the game, but we ran out of time to implement it. Why waste good art, right?
Punch/Shoot: We need to differentiate punching and shooting. Right now they do the exact same thing, which would make people wonder why punch when you can just shoot.
Anyways, that's our postmortem! We hope to announce a finalized game soon!
Tags: postmortem