The goal
The goal of this Mini LD is simple: Who makes the most games, wins!
How many games can you make in 48h? Ten? Twenty? Fifty even? One way to find out! Take part in this month's Mini LD!
Rules
Whoever makes the most games wins!
Whoever wants more rules doesn't win 😛
Challenges
A game counts as two if it matches one of the descriptions below! Each challenge can give you the extra point only once! No stacking!
Code your game in assembly language
Code your game for a retro machine
Code your game in under 15 minutes
Code a multiplayer game
Code a spatial 4D game
These are impossible to achieve on purpose! So disregard that and just have fun 😛


[ View All Games ]
Add yourself to the spreadsheet and track your progress!

When
The official miniLD weekend is February 25-27. But if you don't have time or want to do this in other time for some reason, feel free to pick your 48 hours anytime starting now, until the end of the month!
Submissions
The LD submission form accept only up to 5 links! What can you do about that:
If your games are web based, create a 'menu website' for them
If your games are downloadable, put them in one big zip!
Also, please make a list of your games, any challenges you managed to complete *giggle* and some descriptions and instructions if you feel like it on the submission description form.
The bundle
I highly encourage you to use common framework for you games so that you can have a number of minigames in one big product!
The Pirate Kart
At the same time Glorious Trainwrecks are organising Pirate Kart V jam! Their goal is to create 2012 games in 48h! I encourage you to kill two birds with one stone and submit your games to the Pirate Kart!
The Pirate Kart V announcement post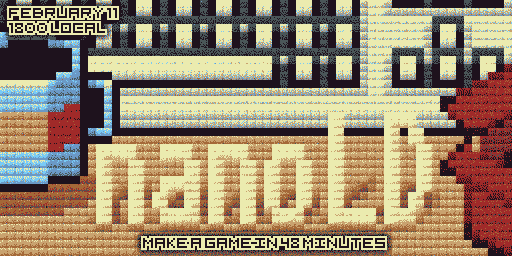 nanoLD
Make a game in 48 minutes!
Done with around 20 entries!
---
Looking forward to it!
Sos