So enough time has passed since finishing that I can look back objectively over Stratus, found here: http://www.ludumdare.com/compo/ludum-dare-21/?action=preview&uid=5541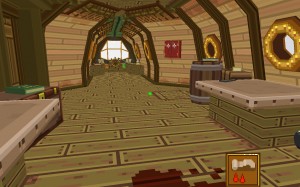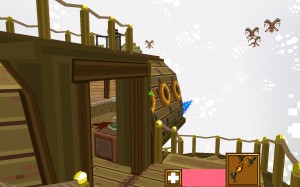 The game I initially envisaged is *roughly* what got made, but I had all sorts of ambitious ideas about minigames and complex interactions with the objects on board.. frankly the initial design was laughably ambitious, but hey I've never tried to make a game this quick :). But I kept the scope as far as the airship design is concerned, and poured a lot of effort into the design and execution of the ship. For me, the key thing for this game was the experience and atmosphere, and anything else came second- so I pressed ahead with the art and particle effects, and ditched some of the ambitious interaction mechanics.
what went right:
– the atmosphere I was trying to create, I think for the most part came together.. I really wanted you to feel the wind in your hair, high above the ground in a flying machine.
– the shooting sequence, while brief, I find enjoyable. I can play it a few times and be happy, so maybe I could have made it longer.. I really love making low-fi particle effects so the explosions were fun to make
what went wrong:
– probably having slightly too wide a scope for the concept left me really stuck for time to code the actual game and mechanics. I had to cut a bunch of ideas to finish the game which is always a shame
– sound, about the only sound effect I'm reasonably happy with is the wind, which was done by modulating the frequency of some pink noise. I really really wanted to devote some proper time to creating nice sound effects because they add so much to the atmosphere of the game, but unfortunately apart from the wind it's all sfxr (I still love sfxr.. but all games sound the same when they use it. and you can have really blocky graphics but if the sound gets a little extra love, it can really add to the experience)
-testing: I didn't get anyone to test my game, because I left it so late to get the mechanics in place. So, if there are some major bugs lurking then that's why!
overall, I hugely enjoyed the weekend, even the massive stress on sunday
This was my first compo, and I would definitely come back again. It's a great community here!
cheers,
-RichMakeGame