Work up at 5am. Like a kid on Christmas day I just couldn't wait to get started. Ah well, it's all good.
Fairly happy about the theme really, I've been wanting to do an escape game for a while now.
Problem: I've been wanting to do a 3d escape game.
Problem: There's no way I'm setup to make a 3d game in 48 hours yet.
Solution: I'm going to try and make a 2d version of my idea. Not sure if this is going to work, but hey, might as well try.
Started off trying to get my art direction going a bit: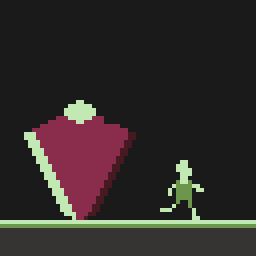 Now working on the code, check out my first build.
So, yeah. Three hours since I started, and going strong. Think it's time to actually get up, shower, breakfast and stuff.