Hey folks! Pyoing is live on the app store. I didn't do much to it past the compo version, but my friend / co-worker Yann at Lucky Frame made the sounds for it. He also spent all day yesterday throwing together this amazing promo video and website.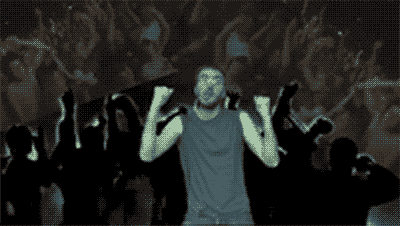 I guess I can do a bit of a post mortem? Eh?
So about 12 noon, uk time I decided to throw my hat into the ring on this LDmini. I was otherwise just watching tv that weekend, and wanted to muck about with my game engine a bit more. I spent about two hours working towards getting something like Rampart in place, where you could place bases, and then you would be able to chuck cannonballs from your base. That seemed to fulfill the war theme, and was something I had been interested in making since the last LD.
At around 4, I went out to have a BBQ and did that until around 5:30pm. It was nice to get away from the compo for a bit and kick a ball around, and eat a ton, etc, etc. While I was there I talked to Yann (the man in the gif above) about the game, and he suggested a few things. First that I should just make crossfire, forget all of the ramparts stuff. Second he asked if I was using box2d, and I said "no, I think I can figure out the physics just fine thanks". When I got home I spent about 5 minutes banging my head against the idea of doing the physics myself, and then about 20 minutes setting up box2d. I think I went to sleep that night with all of the basics in, except for the win / lose states. You could chuck around the balls, etc.
The next day, I got started on it and first put in the win / lose states. Then I did the full game loop with the beginning and ending screens. It was nice to have a tweener library around to get cool animations for everything without much work at all. I play tested it a bunch with my partner, and decided to add the limited shots mechanic. That made the game a whole bunch more even, and about strategy. After that, I still had some time, so I did the retina display version of the game. I had the graphics pretty well integrated with the box2d stuff, so I had to retune everything for the larger masses that were flying around. This resulted in the retina and non retina versions of the game playing slightly different. Hopefully this is not a huge problem. The last thing I did was integrate the audio engine, and throw in a few sfx. They were not super great, but good enough. I think I finished everything up by around 11pm. I want to say that the whole process took about 11 hours of computer time to get finished.
The next morning, Yann did all the sfx over again, and it made everything better, and we submitted to the app store. Done 😀
The final thing was all the promo video, which is basically a scene for scene rip of the crossfire video. That took about a day to do, and we had to learn apple motion. Our greenscreen was a pink blanket purchased from a charity shop around the corner:
Anywho, thats about it! Here are a few promo codes, if you could please post the one you use in the comments, that would be great! If you don't get one, let me know and I can post some more:
A4PE3LMF7AL6
EYJJWAFXKRNL
NFMN6LNJKKMY
Tags: iphone, postcompo, postmortem