April 19th, 2009 4:05 am
I lied, I ended up making a game all tonight. Tomorrow is going to suck because I'll have had no sleep. Oh well, so it goes. I made this one in Unity. I sort of sucks because I wasn't able to spend any time balancing it (I spent about… 8 hours start to finish on this, including design). Still is a pretty nifty entry, I suppose. It's even got 5 levels.
The idea is that you're in a space ship and you're trying to land on a planet, but your space ship is too heavy to do so without burning up. So, you've got to ram your ship against various obstacles in space in order to break pieces off and reduce your total weight. As you break parts off, your ship loses functionality. Breaking off your wings reduces your maneuverability, breaking off your antennae reduces your ability to see around you, and breaking off your cockpit actually kills you. If possible, you want to break off the body of the ship by ramming into something just as you pass it – once the cockpit is free.
Anyway, you can it for PC at:
http://www.otcsw.com/files/TooHeavyForReEntry-PC.zip
And for Mac at:
http://www.otcsw.com/files/TooHeavyForReEntry-Mac.zip
Screenshot: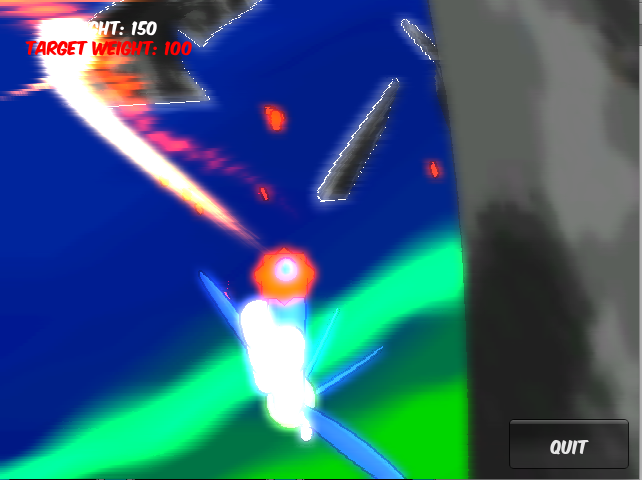 Tags: final